Finding Girls For Sex in Pattaya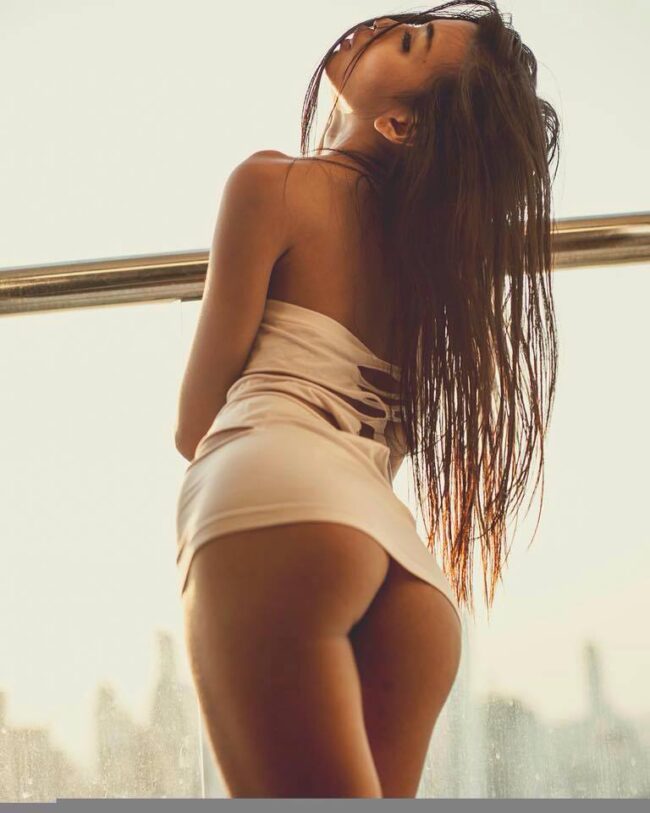 It doesn't get much easier then finding girls for sex in Pattaya. If that is what you are looking for and you think Thai girls are sexy then you have certainly come to the right place. Guys from all across the globe travel here for 1 and only 1 reason.
When it comes to good places to find sex the Pattaya nightlife has it all. There are hookers everywhere you look and the whole city is based around having fun. Whatever you are looking for you will be able to find here.
Some guys prefer the go-go's in while others prefer the hooker discos or the freelancers on Walking Street or Beach Road. Some guys like a good erotic sex massage and Thailand is a great place for that.
There are many expats living here because it is a nice place to retire. There are a lot worse ways to spend your last years on earth then being a 70 year old in a city where you can easily find 20 year olds to spend the night with you.
The nightlife isn't only good for retired expats, it is great for any single guy. You can sit in a laid back open air bar drinking a beer chatting with a girl in a relaxed atmosphere or head to a hooker disco and fist pump the night away.
There are a few main areas in town and the main nightlife area is called 'Walking Street' and that is where the most expensive go-go's and the hooker discos are located. There are so many ways to find girls here but the go-go's should probably be the starting point.
If you don't like nightlife you can always stay home and meet hookers in Pattaya online. It should be noted that at the time of writing this about 3500 baht is equal to $100.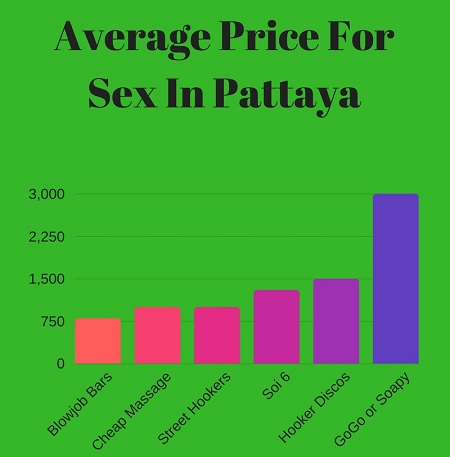 Pattaya Go-Go Bars
If you have never been to a go-go in Pattaya then you don't know what you are missing. There are lots of cute girls on a stage or rotating carousel in the middle and guys sit all around checking them out.
When you find one you like you can call her down or ask the mamasan (basically the manager of the girls) to bring her over. If you want to sit with her for a bit you can buy her a ladies drink and if you want to bring her home with you then you pay a 'barfine' and a tip.
The barfine is the fee it costs to pay the bar to allow the girl to leave work early. Then the girl keeps the full tip. It is hard to say what exact price you will have to pay in a Pattaya go-go because prices vary but something like 600 to the bar and 2000 or 3000 to the girl is a good working estimate.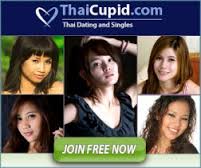 This is probably the most expensive way to find girls for sex in Pattaya but it is also the easiest and most convenient. You get to walk in the bar, decide if there is a really hot one there after looking at her almost naked, and make your decision.
Any other way you aren't going to really be able to check out the girls body before you head home with her. You could ask a hooker in the middle of a disco if she can pull up her dress to make sure her belly doesn't have baby damage but who wants to do that?
The main place to find the go-go's is on Walking Street. There is a long street of them and then some other streets connected off to the side. There is another area of go-go's called LK Metro that isn't to far away and is a bit cheaper. Lots of retired expats prefer LK Metro because of the cheaper prices and less touristy feel.
If money doesn't matter to you or you are just on a very short trip then the go-go's are probably the best way to do it. However, if you are on a budget or are going to be one of those expats the go-go's will crush your budget pretty quick.
They are the most famous part of the nightlife in Pattaya but they definitely come at a steeper price. If you want to see a cool show with sexy Thai bar girls give Angelwitch Showgirls a shot.
The Hooker Discos in Pattaya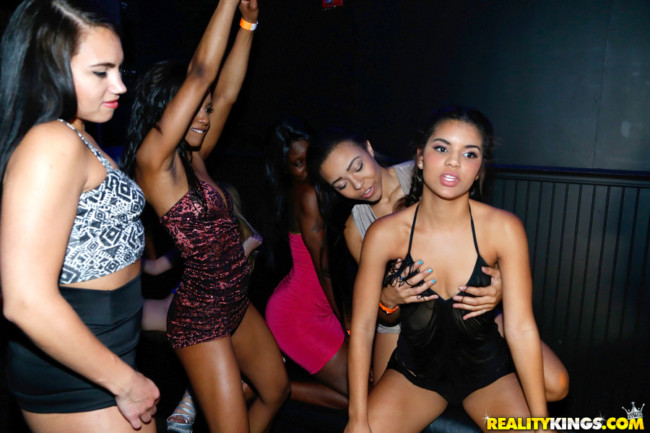 The hooker discos in Pattaya are an interesting place. You basically go into them and do whatever you would do at a normal disco and try to pick up chicks. If you pick one up great….. just remember that you have to pay her when she leaves.
Even if no price is discussed up front the girl is going to expect you to pay her. Once again, it can be hard to pinpoint an exact price because these girls are freelancers and everything is negotiable.
There are quite a few hooker discos on Walking Street but there are 2 that definitely stand out from the rest. Insomnia and iBar are right on top of each other and they have the same owners, but technically they are different places.
iBar is on the ground floor and it is a more laid back atmosphere. The music isn't as loud and there is more room to roam around. There is an open air portion to the back that has a sea view but since you will be there late at night that doesn't really matter except it doesn't get as smoky as upstairs.
There is some dancing here but not much, it is more of a place to stand around a table listening to music and drinking. The dancing and fist pumping atmosphere goes on upstairs at Insomnia.
It is a big jam packed club and is much harder to maneuver because it gets so crowded. There will be lots of sexy Thai girls in both places though iBar generally has a bit sexier of a crowd, however many of the girls hop from iBar to Insomnia or vice versa throughout the night.
This is considered to be the 'gold standard' of freelance prostitutes in Pattaya and some of the girls have a bit of an attitude because of it. With some girls walking right up and asking them to 'come with me?' will get them to go, but many will want you to 'pick them up' as if they aren't hookers.
If you like a nightclub atmosphere and enjoy partying and picking up girls you will have a great time here and are pretty much guaranteed to leave with something you like. However, many guys think it is dumb to 'pick up' a girl that you have to pay in the morning.
These will probably be the most expensive freelance prostitutes in Pattaya and expect to pay maybe 1500 for short time (1 round) or 2k-3k for long time (all night.) It is all negotiable though, 1k may get it done with some girls for short time while 1500 may do the trick for long time, you never know.
808 is probably the 2nd best hooker disco going currently but it is a pretty small place and not an easy place to pick up. Prices will be roughly the same at 808 and there should be some hot girls here as well. If you like rap and hip hop you will prefer the music here to what you will hear at iBar/Insomnia.
Marine is a more bargain shopping disco on Walking Street and you should be able to get girls for 1000 from here pretty easy. They won't be as hot on average and might be more in the 25-35 year old age range then the 18-25 range at Insomnia, but you never know where you might see the hottest girls.
The nice thing about all of these places is that there is no cover charge and no one will be checking out if you bought a drink or not. If you go into a go-go you will be hounded with drink pressure the entire time, in the discos you don't have to worry about that.
The hookers discos are definitely one of the better parts of the nightlife in Pattaya. When you are on Walking Street take a stroll through one and if you don't see anything you like head somewhere else and you don't have to pay a dime.
The go-go's are very popular and one of the main reasons Thailand is in our top 10 travel destinations in the world.
Street Prostitutes in Pattaya
Of course there will be street prostitutes in Pattaya all over the place but mostly around Walking Street and Beach Road. If you read online some will say these 'freelancers' should be avoided because they must have a disease or be on drugs if they don't work in a bar.
Or maybe they just don't want to work in a bar? Maybe they feel shy to go stand up on a rotating carousel in a thong all night being oogled over. Maybe they are only part time workers or are new in town.
Why are the freelance prostitutes in Ibar super safe but the ones on Beach Road such trouble? The answer is they aren't and many of the guys giving these warnings are probably bar owners or managers trying to steer you into the bars so they make more money.
As you stroll around Walking Street there will be lots of girls standing around or strolling also. Pretty much any girl in this area is either going to be a hooker or working for a bar in some other capacity like a waitress so they will be used to being approached.
Beach Road is located at the entrance of Walking Street and is a very long road and sidewalk by the beach where girls line up. You could walk down it for 20+ minutes and there will still be more girls waiting around for guys.
Prices with the street freelancers will be a lot lower and as of a few years ago many would go for 500 baht short time but in the past year or two most have started wanting 1000. Generally they are not going to be as hot but once again you never know where you might see a hot girl.
Going out with the goal of definitely picking up a girl off Beach Road or walking the street will probably leave you disappointed. But your eyes should always be open when you are walking around and that can lead to finding cheap sex in Pattaya.
If you are looking for ladyboys they will be roaming all around Walking Street and Beach Road.  If you can't find any suitable freelancers in these spots you can always try meeting hookers online, or non pros on Thai Friendly and Thai Cupid.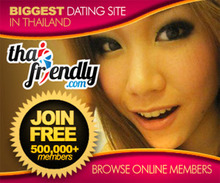 Soi 6 and Beer Bars
There are also a lot of open air bars all around the Walking Street/Beach Road/LK Metro area that are not go-go's but where you still pay barfines. Pattaya Soi 6 is probably the best place for this and many of the bars even have short time rooms upstairs.
Generally at Soi 6 it will cost you about 1300 all in to take a girl up for half an hour to an hour. They close pretty early so you will see many of these girls at the hooker discos later that night and can set up after work meets pretty easily.
At most of the open air bars you can get barfines in the 300-600 range and girls will go for 1000-2000 depending on how long you want her to stay. The girls probably won't be as attractive at these places in general but some expats rave about Soi 6 and only do their mongering there.
If you are looking for daytime action it is a good place to go, as are the places in the next section.
Erotic Massage Parlors in Pattaya
You can't really walk anywhere in a touristy area of Thailand without being offered a massage every 50 feet. There are so many massage girls around town and almost all of them will do some sort of extras.
The majority of them are not that attractive but if you walk past enough of them you will find some hot ones. There are a few certain areas where the massage is more of a front and you are mostly going just for the happy ending.
Soi 2 and Soi Honey are 2 of the main places to go for a sex massage in Pattaya but they are also a bit more expensive. The normal massage parlors charge around as much as Soi 6 so about 1300 for a quick bang.
There are some 'soapie massages' in this area but they are said to be much worse then what you can get in Bangkok and for the same price. Not only that but soapies in general are pretty overrated and the hotter girls at the place don't even do the body to body part, you are just paying a lot extra to have them bathe you before.
They don't live up to the hype that you probably have built up in your mind if you have ever seen a soapie massage or nuru massage porn video and at 3000ish baht they need to be that good to make it worth it.
Another area where the massage is going to be quick and they get right to the happy ending is Soi Chaiyapoon which is located near LK Metro. Here the massage will cost 200-300 baht and a blowjob will cost you around 500 baht tip depending on the girl. Sex may cost 1000 tip or 1000 total with massage fee included, so they are another great way to get cheap sex in Pattaya.
There are about 6 or 7 massage shops at the start of this Soi and there can be some really cute girls working if you are lucky. There is also a blowjob bar here where you can skip the massage and go get a very good BJ but generally the women are not attractive…… however they are very skilled.
Another good place to go look for a happy ending massage is at Soi 6 in Jomtien. Jomtien is very short ride and you can get there very quickly and cheaply. Many expats living in Pattaya choose to stay in the Jomtien area because it is cheaper and less chaotic then the area around Walking Street.
There are erotic massage parlors all over, a handjob is pretty much always possible, any more then that is hit or miss. But at somewhere like Soi Chaiyapoon or Soi Honey more is guaranteed. If you want more tips on how to get the best happy ending massage experience possible click that link.
Pattaya Blowjob Bars
There are a few blowjob bars in Pattaya similar to the Bangkok blowjob bars. The price ranges from 700-900 baht and some will make you pay a 'back room' fee unlike in Bangkok.
The problem with these places is that the women are generally not attractive at all. We aren't just talking average, we are talking ugly. Even in Bangkok the looks aren't good, but you can find something serviceable.
In Pattaya even serviceable can be hard to find. If you want to go to a Pattaya blowjob bar then have some hotties from the go-go's dancing in your head and close your eyes.
We would recommend going to either Lolita's on Soi Buakhao where the blowjob is 700 baht with no back room charge or Kittens on Soi 13/2. The price at Kittens is 800 and they may try and tack on a 300 baht back room fee, but the girls here will be a bit better looking.
Overall the Pattaya blowjob bars are nowhere near as good as their counterparts in Bangkok, but they are another nice option to have. Even if the girls aren't hot they are generally very good at their jobs.
Pattaya G Clubs & Hostess bars
Another option would be to visit the Pattaya G clubs and hostess bars where you can have sex in short time rooms on site. Sex will generally run around 1300 baht while a blowjob will be around 1000.
The gentlemens clubs are like what you find in Soi 6 but a little more upscale and discreet. A good place to grab a drink and spend an afternoon.
Some of the top G clubs in town are Kinnaree, The Den, and Carre Blanc.
Enjoy the Great Pattaya Nightlife
You will certainly have a great time with all the different options for nightlife in Pattaya. If you aren't concerned about money then the go-go's will give you the best chance of finding a sexy Thai girl.
The hooker discos are quite good and if you like a club atmosphere you will really enjoy them. The beer bars are more laid back and move at a slower pace. If you need some day or early evening action try out Soi 6 and the massage parlors.
Here is a really good eBook for any first timer to the Pattaya nightlife. It breaks down a great place to stay, how to get there, good restaurants, and of course more nightlife thoughts to help you have a great first trip to this city.
If you are a first timer then it is a very valuable resource to make your trip go so much smoother. There are many tourists and expats living here and with so many available girls for sex in Pattaya it isn't hard to see why.