Picking Up Prostitutes At Pontoon In Phnom Penh
This is probably the most famous nightclub in the city as far as tourists go. If you are a single guy heading here you probably have read about picking up prostitutes at Pontoon in Phnom Penh before.
But there are always unanswered questions, and it is always good to get more than one report on a place. We will try to break down what picking up prostitutes at Pontoon is like.
Finding girls for sex in Phnom Penh can be done in many ways and this is one of the most popular spots. Lets start out with some of the most common questions guys have about Pontoon.
The Logistics of Pontoon Nightclub
You can ask any motorbike or tuk tuk in town and they can take you there, and it is right next to Golden Sorya Mall which is another popular spot for freelance prostitutes in Phnom Penh.
When you walk in go down a long hall and head right. The bathrooms are right there and then you enter the club and bar area. The bar will be off to your right and there are some tables on that side as well.
To the left is a pretty big dance floor. Behind the bar and the dance floor is a section with some tables, couches, and some bar style seats as well.
It really is not that big of a place, you will figure out the layout in no time at all.
Is Every Girl At Pontoon A Prostitute?
Most of the time a Cambodian girl that is out at midnight is probably a hooker. That is not always the case, but it will be the vast majority of the time. Remember you find some of the most conservative girls in Southeast Asia in this country.
Now since there aren't that many nightclubs in Phnom Penh it is possible that some non hookers head up to Phnom Penh on a weekend for a birthday party or something. But its not all that likely.
You can pretty safely assume that every girl in Pontoon is a prostitute and can be approached. Of course if you see 2 girls sitting at a table with 2 Cambodian guys there is a good chance they aren't hookers.
If you grab a drink then survey the scene it won't be hard to figure out who is working and who isn't. When you see a sexy girl just politely walk up to her and start a conversation, if she isn't interested she will let you know quickly and you can back off. This post breaks down where to meet single girls in Phnom Penh that aren't after your money.
But really if you were hoping to find non pro girls use Asian Dating to make things easier. This isn't a great city to be a playboy but finding an honest and cute girlfriend won't be hard.

What Are The Prices For Sex?
On weekdays there is no cover at Pontoon, on weekends there usually is. They will say they are having some special guest DJ or make up some party and then charge something like $5-$8 to get in.
The drinks are pretty cheap, though more expensive than most bars in Cambodia. Still most drinks will be $5 or less.
The prices for the prostitutes in Pontoon are impossible to say exactly because every girl is a freelancer. It wasn't so long ago that most girls in Cambodia were happy with $20 or $30, that isn't the case anymore.
Now they will all be hoping to get at least $50 and many won't go for any less. Now if its 3 AM and you are the last guy in the place you might be able to lowball them a bit, but not with all of them.
Something like $40-$60 should be what you expect to pay. How long she will stay with you or how many rounds is up for negotiation.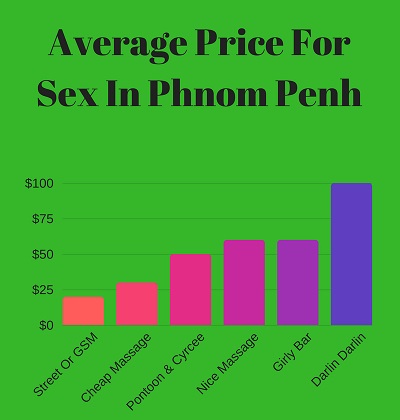 Are The Girls At Pontoon Hot?
While they generally aren't as hot as you will find at Darlin' Darlin' they are still pretty good. Don't expect to find dimes here, but there should always be some that are sexy enough.
This is a pretty late night place, there is no reason to go here before midnight. The later you go the better your chances of finding the hottest girls and also maybe getting a better price.
Good Luck Picking Up Prostitutes At Pontoon Nightclub
Opinions on this place differ, and the sexyness of the girls can vary a lot from night to night. Sometimes the hottest girls might just be above average, other times you might find great quality here.
Like usual the weekends seem to be better, and remember that Pontoon is better the later into the night it gets. This is the main nightclub to find freelancers in the touristy area so there will be many girls here. Here is a link to the clubs official website.
Either way if you are in town good luck picking up prostitutes at Pontoon in Phnom Penh. This eBook guide has more good budget vacation ideas for guys.