Checking Out Dollhouse Go Go Bar In Soi Cowboy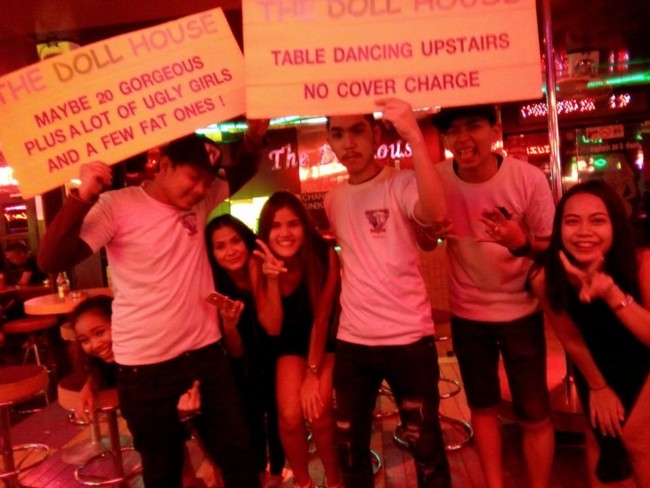 There are so many Go Go's to choose from in Bangkok that it can be hard for them to differentiate themselves from each other. Dollhouse Go Go Bar in Soi Cowboy does stand out in one way which we will get into later.
It seems like any red light district in Southeast Asia that you go to has a bar called Dollhouse. They are all over the place and they generally seem to be pretty popular.
If you aren't aware this is one of the 2 main Go Go/red light districts in Bangkok. It is located on the lower Sukhumvit area of town and any taxi driver in Bangkok will know where it is. Or you can easily get there by taking the BTS to Asok or the MRT to Sukhumvit,
This is not a cheap place and you should always make sure to confirm how much any drink or ladies drink you buy will cost. Soi Cowboy in general is more expensive than other spots around town and this bar is the same.
However if you go before 9:30 the beers are only 85 baht, after that they almost double to 165.
Sexy Thai Go Go Girls At Dollhouse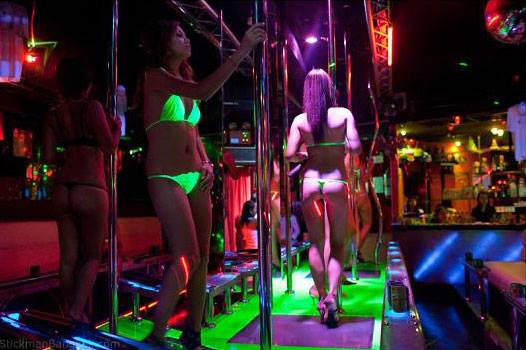 If you head to a lot of Go Go's in Bangkok you will see a lot of small Thai girls that don't have many curves. Well Dollhouse, like Baccara a few doors down, does a great job of finding curvy girls.
By that we mean they go out of their way to hire Thai girls with big tits. Big tits on Thai girls can be hard to come by, so it is no surprise that an expensive bar like this has many of them working here.
If you want to barfine a girl from Dollhouse expect to pay a barfine of 600-800 baht and then negotiate the rest with the Thai bar girl. Anywhere from 2000 to 3000 baht should be enough for short time, and 3000 to 6000 should be enough for long time.
We realize those are some wide ranges, but they are free to charge whatever they please. Most Thai bar girls seem to prefer short time sessions and some will try and ask for a whole lot for long time.
If you are friendly with the Go Go girl at Dollhouse she may not try to charge you as much. For more tips on how to get the most out of the great Thailand nightlife check out this single guy's travel guide. It has all the travel tips and advice on where to meet girls a guy could ever need.
What Is Different About This Bangkok Go Go?
Well we already talked about how they have more girls with big tits here than most Bangkok Go Go's will have, but that isn't the only difference. Most guys just come in and take a seat on the ground floor and never venture upstairs.
They are making a mistake. Upstairs there are Thai Go Go girls that give table dances. If you aren't aware what this is you basically get a Thai Go Go girl for yourself and she dances for you.
She will be on a tiny stage that has only a couple seats around it, and generally just 1 guy sits there at a time. She will dance for you and you are supposed to buy her a ladies drink but if you just give her some tips (20 baht or 50 baht at a time) that should be enough.
Depending on the girl you can sometimes get very hands on with them. They won't get hands on back with you, but feeling up a Thai bargirl while she is on stage makes the Dollhouse different from the rest. Though at After Skool a few doors down you can get a blowjob.
Have Fun At Dollhouse In Soi Cowboy
There are so many cool things to do in the Bangkok nightlife and this is another you need to check out. If you don't end up liking the scene there are many other Go Go's all around you.
They are open pretty late so if your ThaiFriendly date doesn't put out you can come here to barfine a girl. Or you can just get a table dance here, feel up the sexy bargirl, and then head to a blowjob bar nearby to bust a nut for only 700 or 800 baht.
Overall Dollhouse Go Go in Soi Cowboy is pretty cool. With how easy it is to meet and date girls in Bangkok on the Thai dating sites you may not need to pay for sex, but it is always nice to have the option open.