Review Of Club 808 On Walking Street Pattaya
Welcome to our review of Club 808 on Walking Street in Pattaya. This has become one of the most popular prostitute pick up bars in the city.
For the longest time Insomnia and iBar had a monopoly on the scene, but that is not the case anymore. Now Club 808 is a favorite bar of many freelance prostitutes in Pattaya.
Walking Street is loaded with many great Go Go's, nightclubs, and pick up bars to check out. If you are only on a short trip you may not have time to give them all a shot.
Hopefully after this review you will have a clearer picture of what it is like inside so you can put it on your to do list or not. Some guys may think it is the best place in the city to meet sexy Thai girls, other may not enjoy it as much.
Luckily there are so many awesome ways to find sex in this city that our GuysNightlfe Pattaya mongering guide gives you plenty of options if you do not like it here.
Logistics Of Club 808
Club 808 is located on Walking Street right above the Candy Shop Go Go. If you are heading into Walking Street from the Beach Road side it will be a 3 to 5 minute walk and on your right hand side, not far from Skyfall.
There is a big silver sign that says 808 out front and you can't miss it. You need to take the escalators up to the 2nd floor to get in, and will have to pass through security first.
Once you are upstairs there is a small lounge area with a pool table, but the main prostitute pick up bar area is off to the left. You get to it by passing the restrooms, and then you are in the main club area.
There is a circular walkway around the bar in the middle. At the back of the club is where you will find the DJ and the main dance stage.
If we have one main complaint about the place it would be that it is very cramped inside. There is not much room to walk around and try to pick up prostitutes even on an average night, on a crowded weekend it is very hard to maneuver.
Trying to walk a lap around to see where the hottest girls is definitely a chore. And then when you do spot them the set up is not very conducive to approaching because there are layers of tables off the walk way.
If they are not right there on the main path it makes things much more difficult.
Prostitutes At 808 Nightclub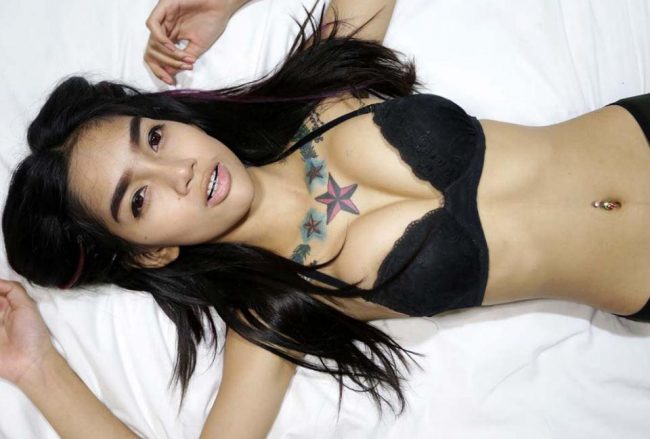 You will find the same freelance prostitutes here that you find at the other freelance hooker discos in Pattaya. Some girls may only go to one disco and make it their office, others are mobile and move from place to place.
That means you might see one girl at iBar at midnight, then when you move over to 808 at one she could be doing the same. Pattaya seems like a big city with a lot of girls working, and it is, but the longer you stay the more you realize the hooker scene is smaller than you expect.
Since this is one of the more popular nightclubs to pick up prostitutes in the city you do get a nice amount of sexy girls here. And since they generally play better music here with new hip hop the girls love to come and dance.
There is definitely a party and nightclub vibe to the place, it is no lounge. As far as how much the sexy Thai prostitutes will charge that is totally up to negotiation.
Some of them may go for as low as 1000 baht but that isn't common. 2000 would probably be the average price, and anywhere between 1500 and 3000 should be expected.
Be sure to confirm how long they will stay with you and how many rounds you can get before you leave with them. There is a reason why so many consider this one of the best cities for nightlife in Thailand.
Should You Visit 808 On Walking Street?
It kinds of depends on what your goals are for when you go. If you want to have a nightclub experience, stay there and party for awhile then ya you should check it out.
It has a nice vibe inside the place and the music is good. If your goal is to get in and get out as quick as you can with a sexy girl then there are better options, like maybe even meeting hot ladies on Thai Friendly or Thai Cupid.
It is not an easy to maneuver place, and the girls go there to dance, have fun, and get picked up. Some may be ready to leave any time they get an offer, others are going to want to enjoy the night and then go home with you hours later.
Hopefully our review of Club 808 on Walking Street in Pattaya gave you a clearer picture of what to expect when you go. For more tips on how to take the perfect trip to this city check out this Pattaya adult entertainment guide.