If you are trying to find where to get an erotic sex massage in Paris this post has the tips you need. This is not a good city for mongering at all, but there are some rub and tugs around.
As our post about finding hookers in Paris details scams are plentiful. At an Asian erotic sex massage spa you can find a happy ending, but it might just be a handjob.
Of course the more you tip the more likely they will be to get better extra services. We don't have a ton of info to give you but there is one area of town with many rub and tugs that will be good to visit.
Plus we will give some general tips on finding a happy ending massage and will start there.
How To Find Happy Endings
If you want to get a happy ending then Asian massage parlors in Paris are a good place to look. They are more likely to offer them then other spas.
Of course this is not an exact science, but it is a good general rule of thumb. You also will want to look for spas that are open 24/7 or late into the night.
Red lights by the door are always a good sign. If the spa has a CCTV pointed at the door and makes you ring a bell to get let in even better.
As you move around the city be on the lookout for Asian massage parlors that fit this description. When you go inside don't do anything to make yourself look suspicious.
Don't instantly ask if you can get a happy ending, instead you need to wait until the end. If you come on too strong they may think you are a cop and not go through with it.
Also try and spend some time chatting up the therapist while she does the massage. The nicer you are the more likely she will be to want to make you happy.
Don't show up smelling like ass after not showering. She doesn't have to please you, give her a reason to want to. Otherwise you might strike out and if so turn to Happy Tugs for some massage porn.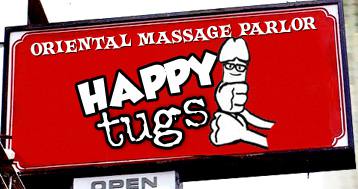 Specific Paris Erotic Spas
There are many Asian massage parlors in the Gare de Lyon area where you can find an erotic sex massage in Paris. A few specific spas for men to try are:
Soleil Levant at 113 Rue de Charenton
Le Bain des Sens at 38 Rue de Tocqueville
Paradise Club at 3 Rue Laugier
At them you should find many sexy Asian massage girls who are willing to give happy endings. Some may only want to do a handjob, others will do a full sex massage.
There is a lot of guess and check here, you can't just assume that it will work out splendidly every time you visit a rub and tug. But the more attempts you make the sooner you will find the right girl. Looking near the Pigalle red light district might prove fruitful, or it could be a scam.
For some better places around the world to meet easy girls check out this travel guide for single men.
Easy Sex In Paris
If you are trying to find a happy ending massage for easy sex in Paris why not try using Adult Friend Finder? In many cities in the world there are very few active female users on the site, but not in this one.
There are almost 2,000 females in this city and as many more around France that have logged onto the site each month in 2018. They all find the site the same way most guys do, on porn sites. That means they are horny and want someone to help them out.
You can be that guy. Good luck when trying to find where to get an erotic sex massage in Paris.