Finding Girls For Sex in Bangkok, Thailand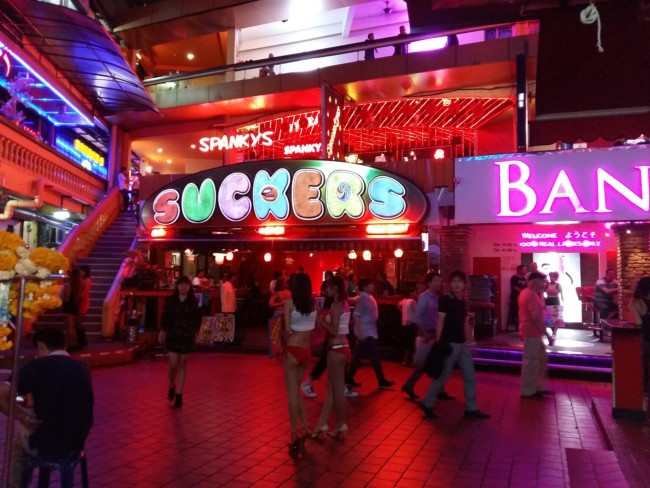 Finding girls for sex in Bangkok can be done in a variety of ways and foreign men will surely have a great time when you are in town. This city is one of the main reasons Thailand made our top travel destinations for single guys.
The question isn't if you can find them, it is how do you want to go about it? Do you want to go to the world famous Go Go bars? Maybe you want to hit up a Thai massage parlor? How about a soapy? Or the blowjob bars?
Maybe you just want to pick up a freelancer? Use an online escort service? Ya, they got those too don't worry. This city may have more options for meeting girls then anywhere else you will ever go.
What is the preferred way of mongering from our Bangkok sex guide? That depends on a lot of different things, and your budget is probably one of the biggest factors. While there are many ways to meet hookers here some can be pretty cheap while others can be costly.
Sure, these prices won't sound bad to a guy who is reading this from the western world. If you are in New York right now and hear that you can have a Thai school girl who works nights at a Go Go spend the evening in your bed for $100 that will sound like a fantastic deal.
As far as Southeast Asian prostitutes goes mongering here isn't one of the cheaper options around. However, with the great variety the nightlife offers it is a place that every guy should visit at least once.
Lets get on with where to find girls for sex in Bangkok and start with the prostitutes. The Go Go's are the most famous thing so we will begin with them. For a point of reference right now the Thai Baht is hovering around 32 per US dollar if you want to do some mental calculations, but that may change by the time you visit.
After we wrap up the mongering we will get to how to meet single girls that aren't hookers. If you don't like paying for it then skip to the bottom or check out that link. Plus we will mention the best Thai dating sites so you can start to meet girls interested in foreign men before you arrive in town.
There is also a mongering map that will help you navigate the city and figure out where you should stay.
World Famous Bangkok Go Go Bars
If you are not familiar with how an Asian girly bar works then you should click that link and brush up before you go on. That way you will understand some of the terminology that is about to be used.
The Bangkok Go Go's are definitely world famous and for good reason. They have a whole lot to offer and while they aren't all that cheap by Southeast Asian standards they are still one of the best ways to monger here.
There are 3 main Go Go bar complexes, the most famous being Nana Plaza on Sukhumvit Soi 4, easily found by taking the BTS to the Nana stop. Nana Plaza has 3 stories filled with them. The majority of the Go Go's have hot dancing Thai girls on stage, but there are also a handful of ladyboy Go Go bars here as well.
If that is not your cup of tea be careful which ones you enter. There are always sexy ladies waiting outside so it should be pretty easy to figure out if it is a ladyboy Go Go before you walk inside.
In our opinion the best Go Go in Nana Plaza, and maybe the best in the city has to be Billboard located on the third floor. Why is it the best? Well first off they have a huge staff of girls working and many of them are in the 20ish year old range.
Some bars will have quite a few older and sometimes fatter women working, in Billboard you don't see too many undesirables. Also, there is a bath tub on the right hand side when you enter where topless Bangkok Go Go girls splash around together.
Even with a lot of options around a bathtub full of topless girls has to make Billboard one of the best options in town. The second best red light district for bars is Soi Cowboy located right across the street from Terminal 21 mall on roughly Sukhumvit Soi 21. Take the BTS or MRT to Asok and it is right across the street.
In Soi Cowboy the most famous Go Go is Baccara where you have girls dancing with tops on downstairs and topless upstairs. Just outside of Soi Cowboy (at the entrance opposite of Terminal 21) you will see Crazy House where you can find sexy Thai girls dancing fully nude on stage.
This is one of the favorites of many guys, the full nudity probably has a lot to do with why and it is the only full nude Bangkok Go Go that we know of. At certain bars in Soi Cowboy you may be able to get a handjob or even a blowjob, but we will get to that later.
Lastly you can find more Go Go's in Patpong which is located a short walk from the Silom MRT station. This is not a place many expats recommend because the girls are generally less attractive, the prices are as high if not higher, and it is a common tourist rip off spot.
Do not go upstairs for any ping pong shows or you may get a highly inflated bill when it is time to settle up. Taxi's also will be looking to rip you off on the ride home so take a short walk away and flag one down that is passing by.
There is actually a street right by Patpong with some of the sexiest girls in Bangkok but sadly they will only talk to Japanese guys. If you aren't Japanese you aren't welcome at these bars.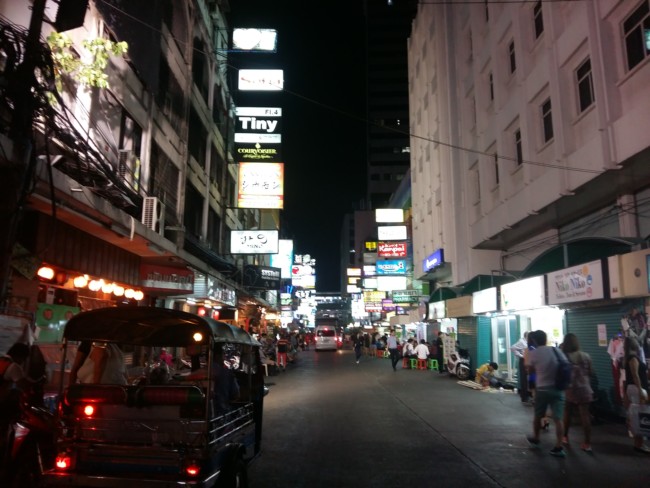 That covers the 3 main areas, and now you may be wondering how much does a girl from a Bangkok Go Go cost? Well, first you have to pay the barfine that is somewhere between 500 and 1000 baht, generally 600.
That money all goes to the bar and then you have to negotiate with the girl. Most will want at least 2000 baht, and if you want them to stay long time (overnight or multiple rounds of sex) they may ask for 3000 or more.
Many girls only like to do short times (one round or about an hour) now a days, but if you treat them well and are polite they may stay longer. Some may ask for numbers even higher then that, and rarely you might even get one to go short time for 1500.
For a tourist these prices are a good deal, but most expats in Southeast Asia aren't paying that much every time they want to get laid. Try to get their Line ID after the first time she comes over and then skip the barfine on later visits.
There are many other bars all around with girls working in them but they don't do any sexy dancing or wear thongs. You can find these beer bars with girls up and down Sukhumvit, Soi 22 has a nice little complex you may want to check out for a more relaxed atmosphere.
Thai Sexy Massage Parlors In Bangkok
There are Thai sexy massage parlors everywhere you look. If you are going into any massage spa near Sukhumvit you can almost be assured some sort of happy ending will be available.
There might literally be a thousand massage spas in Bangkok and the girls are very hungry for customers. When they finally do get a customer they are going to want to maximize their chance to earn and will give you that happy ending for a tip.
A few popular Soi's for sexy massages are Soi 33, Soi 24, and Soi 22. On these streets you will find plenty of options and they will all be special massage or plus plus, not just straight up. There are many on every Soi in the lower Sukumvhit red light district, lots around Nana and Cowboy. They are everywhere.
Make sure you get an oil massage not a Thai massage because if you get Thai they will ask you to wear some weird robe like thing that lots of other naked dudes have been in. The oil will cost a bit more, but it will be much easier to get a happy ending that way.
So how much do these Bangkok erotic massage spas cost? Generally the price for an oil massage will be somewhere in the 300-450 range. This is just for the massage only, prices can vary a bit from spa to spa.
Then you will discuss the price of your happy ending with the 'therapist' and expect to pay something like 500 for a handjob, 1000 for a blowjob, and 1500 for sex. These prices are negotiable, and some may not want to do a blowjob happy ending, in Thailand they seem to prefer sex.
If you want to read more sexy massage pro tips then click there.
Soapy Massages In Bangkok
For the longest time the best soapy massage in Bangkok was Nataree but it was closed earlier this year and has not yet re-opened. It probably will open up again at some point, but no one can be sure.
There are still lots of other soapies in this area that are open and to get there you will need to take the MRT to the Huay Kwang stop. There are probably 5-10 soapies right around here like:
Poseidon
Emannuelle
Caesers
Alaina
Another popular Bangkok soapy massage is Annie's located on Sukhumvit Soi 2 close to Nana Plaza. There are a few things you need to know before you get a soapy.
First off, confirm that you will actually get the body to body massage on an air mattress if that is what you are after. Some girls will do that, some will not. If they don't then all that happens is they wash you off in a bath tub, you bang, and that is it.
If you are expecting the full on soapy porn star experience make sure you ask if the girl does that before you pay. The prices at these can vary, and each shop has different tiers of girls.
Expect to pay at least 2000, though closer to 3000 is probably the norm. This is one of those things that people generally try once, have too high of expectations for, and don't try again. As long as you know to ask for the body to body going in you have a better chance of being satisfied.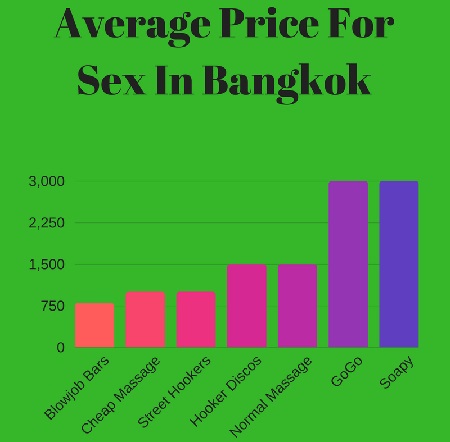 Bangkok Blowjob Bars
Some guys love Bangkok blowjob bars and some guys don't think they are anything special. Everything has their pros and cons, lets start with the reason why some guys don't like them and then get around to the good stuff.
The girls are not going to be attractive very often. These girls are sucking dick for a living, and they probably only keep $10-$15 each time they get a customer, you can't expect hot girls to be signing up for that gig.
You are generally seeing 30ish year old women, and sometimes they are a bit fat or not attractive. If there are 50 girls working at all of the blowjob bars in Bangkok on any given night only a handful might even be average looking Thai girls.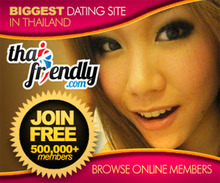 But you aren't going to these places to stare at sexy girls in bikinis. You aren't going there for eye candy, you are going there for one thing and one thing only. These girls all give very good to great blowjobs.
They definitely have some sort of screening system to get girls that give bad head out, and they are all expertly trained. You are going to walk out of them fully satisfied every single time.
Lets start with the former Dr. BJ's, now known as Wood Bar because it is probably the most well known in town. A blowjob here will cost you 1000 baht from most of the girls, or 700 baht from a couple of the older less attractive ones.
If you don't mind spending $8ish more for a better looking girl then head here, because the average 1k girl at Wood Bar is going to be hotter than most at the other bars. Still not likely to be a stunner though.
Most of the rest are on the other side of Sukhumvit, there is a new one up on Soi 22 called Bit Style. It is catered towards Japanese guys and is a bit of a rip off charging 1200+ for a blowjob.
There are all sorts of add ons you can do as well, but of course they cost more. Then on Soi 14 you can find Som's Haven.
This is one of the cheapest at 700 baht and they do a pretty good job of always having at least a couple cute girls on staff. With mirrors on the walls and the lights on you can get some nice views of the action as well.
Lollipop is located on Soi 10 but good luck finding even an average looking Thai girl there. Sadly, the staff there has to be the worst, but it is 700 baht also. On Soi 8 you can find Lolita's and just past Lolita's is Kasalong.
Both of those spots are 800 baht each, you can sometimes find cute girls at Kasalong or Lolita's but not always. At all of these blowjob bars (except Lolita's) there are sinks in each room for you to wash off before and after.
The girls use mouthwash as well and will thoroughly wash you to try to keep things as hygienic as possible. After you finish you head back downstairs and pay, tipping is optional, of course the girls would appreciate a tip but there isn't a big tipping culture in Asia.
Some girls unbutton their tops or let your hands roam up their skirts, but some of them will not allow this at all.If you want to get a blowjob in a Go Go try visiting After Skool in Soi Cowboy.
Overall the Bangkok blowjob bars are one of the things that sets this cities great nightlife apart from others. Knowing that at any time you can go get a very skillfully done blowjob on top of all the other mongering options here is why this city might be the best for finding Asian prostitutes anywhere.
Freelance Prostitutes In Bangkok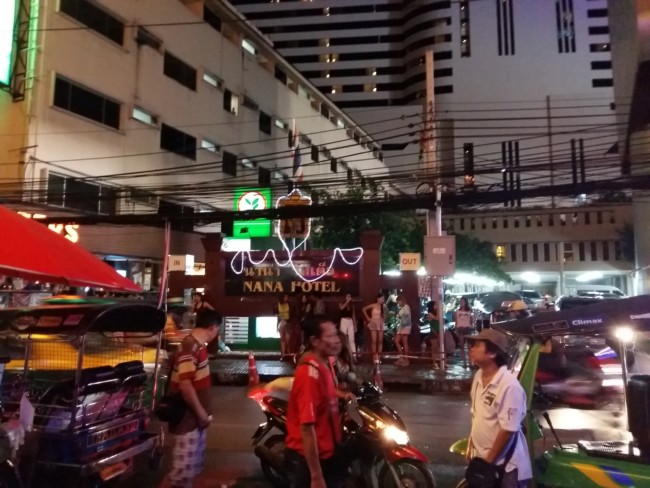 There are freelance prostitutes all over the place particularly in the Sukhumvit area. Right across from Nana Plaza is the Nana Hotel and many street girls and ladyboys stand right outside the Nana Hotel sign. Then all up and down Soi 4 you will see more hookers.
You can also find hookers on Sukhumvit standing out in front of Robinsons next to Terminal 21. There is a popular freelancer bar called Thermae to find prostitutes for sex in Bangkok in the basement of the Ruamchit Hotel.
It is a Japanese/Korean style bar and the girls will never approach you. Instead they stand around the perimeter of the walk way and you can take a stroll around and talk to any that you like.
All of the ladies of the night in there are working, and expect them to want 2000-3000 to go with you. This is where you can find some of the hottest hookers in the city. Sadly many of them will only want to go with Asian guys.
There are also lots of discos or clubs down around Soi 11 and in that area. You can pretty much assume any girl in that area of Sukhumvit dressed like a prostitute in the nightlife is in fact a prostitute.
Some of the most popular after hours prostitute nightclubs are:
Girls there may go for 1000-3000 depending on many things like how drunk they are, how horny they are, how bad they want cash etc.
There will be some hookers working at Lumpini Park as well but they are generally not hot. This is bargain shopping and 500-1000 should be enough.
If you are looking for cheap sex in Bangkok that wouldn't be a bad place to go. Just remember it is another place where many ladyboys hang out so if in doubt move on.
Online Escort Services
We used to think using online escort services in Bangkok weren't worthwhile. With so many other ways to find hookers or pick up girls you don't need to pay there isn't much of a reason to use an escort service.
Meeting hookers online always comes with some risk, safety shouldn't be a big concern but wasting your time or money might be. How do you know if the pictures of the call girl you want to meet are really her? Or if they are highly filtered and she won't look anywhere near as good in person.
In some cities where it is hard to get laid ordering a paid call girl online isn't a bad idea, but this isn't most cities. At least now there is a new Bangkok escort service called Smooci that is much better value than the others.
The call girls on the site get star rating and reviews so you can not only tell if they are as hot as their pictures but also if they perform well in bed. If you choose one who is highly rated then you probably be happy with her services.
You can also meet hookers online on Thai Friendly or Thai Cupid. Sometimes you will even find Go Go girls online on these sites. If you meet a girl online and she has some slutty pics up then there is a good chance that she wants money.
Coyote Gentlemen's Clubs
If you want to find the hottest Thai girls in Bangkok the coyote gentlemen's clubs would be a good place to look. However they are very expensive and having sex will be pretty hard.
These would be the closest thing to a KTV in Bangkok. You pay a premium to be allowed to hang out and get attention from some very attractive girls.
But attention is usually where it ends. If you have some game or a lot of baht you might be able to make something happen, but generally these are just an illusion.
They are mostly frequented by older Asian businessman who are married and want to be around hot younger women, but not necessarily have sex. Some of the best gclubs are:
The Sky Club & Lounge in Suanluang
The Club in Patpong
St. Moritz Bangkok Sukhumvit Soi 11
Exotica Sukhumvit Soi 55
The Pimp on Pracha Uthit Road
Exit Nineclub
Maiake Club near Nuan Chan Road
Big Apple in Lat Phrao
BDSM & Fetish Sex In Bangkok
There is actually not as much fetish sex in this city as you might imagine. Well at least not sex clubs set up for anything kinky, but who knows what is going on behind closed doors.
You do have some options and if you are looking for anal sex or threesomes in Bangkok you can go to the Eden Club on Soi 7/1 right next to Wood Bar. This is a brothel that specializes in both anal and threesomes, the price is 4500 baht for an hour and a half.
There are also a couple BDSM and bondage clubs. One is called Bar Bar located in Patpong on Soi 2. The entry fee is 900 baht with 1 drink included, additional drinks are expensive, and if you want to had BDSM sex with one of the girls it will cost 3500 more.
Demonia Fetish and BDSM Club is located on Soi 33 and is a bit cheaper. Entry is 450 with 1 drink included and on site sex is 3k, or you can pay a 1500 barfine.
In both of those clubs they have all sorts of bondage and BDSM gear that you can use. They also put on live lesbian bondage shows if you just want to look but not touch.
Another good option for fetish sex is Exotic Massage Bangkok on Soi 22. Here you can combine a massage with all sorts of kinky fun. You can also buy your own sex toys around town and have the kinky sex in your room.
We realize we just hit you with a lot of venues and you might be a little confused. We have a good mongering map of this city coming up soon, but if you wanted to read more about the lay of the land here check out this link.
Meeting Girls That Aren't Hookers
That wraps p the mongering section of this Bangkok sex guide, don't worry if you want to pick up single girls in town you can get laid for free here pretty easily as well. This is a massive city and while most foreign men stick to the lower Sukumvhit red light district there are millions of single ladies around and many have a big interest in foreigners.
This is common all around the world. A girl gets cheated on or hurt by a local guy and now she wants to try something different. Plus Thai girls really love white skin, they are always using whitening lotion and hiding from the sun.
For day game just try to meet girls in malls. Women are going to be a lot more comfortable having a guy approach them in a safe mall then on the street. Though if you see a sexy lady on the street go for it.
For nightlife you need to get out of the sexpat areas and that means go to RCA or Thonglor. These are the two best areas to meet single girls in Bangkok's nightlife, some of the best pick up bars and nightclubs in Thonglor are:
And for RCA you could go to:
Just because these are clubs with less hookers that doesn't mean there will be no working girls at all. In this city you just never know with the ladies of the night.
Lots of girls also go to party with the backpackers on Khao San Road.
Meet Sexy Thai Girls Online
Whether you want to meet hookers online or meet regular girls in Bangkok online both can be done pretty easily. It isn't always easy to differentiate between a hooker and a good girl so you may want to ask to make sure. Just do it politely and the girls will understand.
You have to remember that these girls have lots of asshole tourists hopping online and treating them like shit. If you are a gentleman then they will think you are different and be happy to spend some time with you.
The best dating sites for foreign men are Thai Friendly and Thai Cupid. If you sign up for either you will be able to meet as many good girls or as many hookers online as you ever could have hoped for.
Tinder and the apps really don't work very well in this city. They are filled with ladyboys and hookers and are not an efficient use of your time.
If you have never done any online dating in Asia it is a little bit different then it is in the western world. Don't try to game them, just be friendly, crack some jokes, and smile a lot when you meet. Nice guys finish first here which is why so many guys love living in this part of the world.
No matter if you are looking to meet a good Thai woman, find a slut to get laid quickly, or meet a cheap prostitute online these will be the best sites for foreign men to use in this city.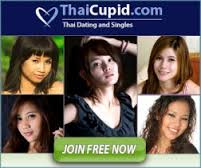 Mongering Map
Here is a clickable Bangkok mongering map that lists the most important venues for adult entertainment around town. This way you can get a feel for the logistics of the city and make it easier to find places when on the ground or choose a location to stay when planning your trip.
Good Luck Finding Sex In Bangkok's Nightlife
You have finally made it to the end of our Bangkok sex guide, the nightlife here has so much to offer, probably more than anywhere else in the world. Can you come up with another place that has erotic massage parlors every 20 feet? Go Go's with sexy girls in thongs? Blowjob bars? Soapy massages? Freelancers everywhere you look? And easy online dating?
That is what mongering this city has in store, and is why we said earlier that every guy needs to take a trip here at some point. No matter what a foreign man is looking for he can find it here.
If you aren't a fan of big cities then remember that it is easy to find sex in Pattaya and it is just a short ride away. It has just about everything this city has has but is smaller and set up specifically for single guys looking for sexy Thai girls.
Some guys may prefer Pattaya, others will prefer the capitol and if you decide on the big city you will be fine. Look for a hotel or condo off AirBnb on Sukhumvit on Soi 2 through Soi 30.
Plan your trip wisely and then enjoy finding girls for sex in Bangkok! To get the most out of your money check out this eBook that breaks down the Bangkok mongering in full and also gives general travel tips that can save you some baht along the way.