Finding Girls For Sex in Frankfurt, Germany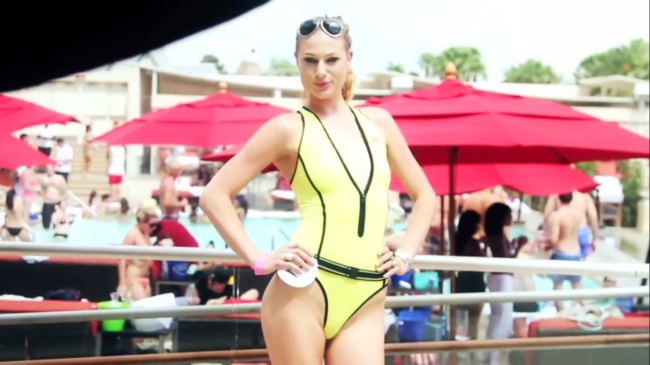 If you want to find girls for sex in Frankfurt you have certainly come to the right city. Germany definitely does things the right way when it comes to prostitution and that is one of the main reasons it is such a popular male tourist destination.
There are so many ways to find girls for sex in Frankfurt. The Bahnhofsviertel Red Light District is filled with many one woman brothels where cheap sex is easily available.
Then there are the FKK sauna clubs which are like paradise for a single guy. If you are not aware of them then you surely will want to check one out when you are in town.
They aren't the cheapest brothels in the city, but they are not all that expensive either. Overall they are just a fantastic experience and any monger would love to be at one right now.
We will also talk about the cheaper brothels, happy ending massage parlors, online escorts, swingers clubs, non pro girls and even online dating. This Frankfurt sex guide will be lengthy, but the majority of the content will revolve around the red light district and FKK's.
In a city like this one with so much prostitution available it is hard for anything to stand out, but they both do. We have a lot to get to so better get started.
The Bahnhofsviertel Red Light District
While there are no window brothels like you find in Amsterdam this is still an awesome place that you should definitely check out when you are in town. At the Bahnhofsviertel Red Light District there are hundreds of small one woman brothels that you can visit any time of the day.
Before we get into that lets quickly get through our word of warning. Don't bother with any strip clubs, sex clubs, or any touts on the street inviting you in to their bar.
This is a place known for ripping off tourists, and you should avoid all those spots. Instead what you are looking for is the residential looking apartment buildings that have bright colored lights on the outside.
Not just red lights, but blue or green as well. Walk into these buildings and they are all filled with small apartments that prostitutes rent out to ply their trade.
If a door is open that means that she is now accepting customers, if the door is closed she isn't. Some of the sexy ladies stand by the door and invite you in, others are more passive and will wait for you to come in and make an offer.
This is a great place to find cheap sex in Frankfurt, some girls will charge as little as 25-30 euros. Generally the lower floors are cheaper, and the higher you go you might find prostitutes asking for 50 for sex.
These are known as 'eros centers' which are basically one woman brothels. There are no pimps or mamasans, each girl is an independent contractor that rents a room and is free to charge whatever she wants.
Don't expect to get a long time with them or any sort of girlfriend experience. This will be very rushed, and you need to ask the sexy ladies if they will do simple things like remove their clothes or be OK with position changes.
Some girls aim to please and will be up for anything, others will just lay there. Most of the prostitutes are from Eastern Europe, you can sometimes find an Asian or Latina working here as well.
The Bahnhofsviertel Red Light District is very easy to find located directly opposite the Haptbhanhof which is basically Frankfurt's Central Station. Definitely a spot worth mongering at, just don't fall for any of the scams on the streets nearby.
The Frankfurt FKK Sauna Clubs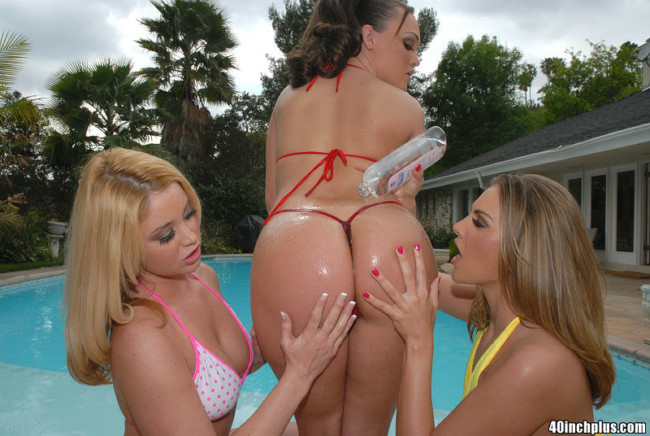 Before we get going we suggest anyone who isn't familiar with a German FKK sauna club should click that link. It will break down the basics of what these are like in greater detail so you have a better understanding.
Basically you pay a cover of about 50-75 euros to enter, then head to the locker room to wash off and change into a robe. Then you wander around the premises or take a seat and relax.
They give out free food and drinks, though sometimes you have to pay for more expensive liquors. The only things you have to pay for once inside are sex or a massage.
There will be anywhere from 30-150 naked or near naked girls walking around the Frankfurt FKK's, all of which are prostitutes. They are generally not very aggressive at trying to make a sale and you should let them know if you are interested.
Any time you are ready to have sex you let the girl know and then head back to a private room. There used to be a lot of public sex out in the open, but that isn't anywhere near as common now and it mostly goes down behind closed doors.
If you did want to watch or put on a show head to the kino (cinema) which is the most common place for public action. The price for sex in a Frankfurt FKK is generally 50, and that will get you 30 minutes.
If you wanted a longer time, a threesome, anal sex or any other kinky stuff it usually can be done for a price. Of course not all of the girls are up for kinky sex and are allowed to tell you no. Generally extras cost 50, some may ask for 100 more.
Most of the FKK girls are generally Eastern European and Romania is the main country they come from. Every once in awhile you might see a Latina or black girl around but don't count on it. We will quickly break down some of the better ones.
Palace FKK
Palace FKK is located two blocks from the Industriehof train stop at Königsberger Straße 23 60487. Its location right in the middle of the city is one of its bigger selling points as you can get there quickly and cheaply.
It is huge and the girls generally walk around fully nude here. There are often somewhere between 50-100 girls working at any time. The entry fee is a bit higher than the others at 75.
There is also a Palace FKK in Stuttgart which is another great place.
FKK Oase
FKK Oase is probably the most popular sex club in Frankfurt at the moment. It has the most girls, sometimes as many as 150 women will be working here.
It doesn't have the best location, you can take the S5 train to Friedrischsdorf and then get a taxi from there to save a little money. The entry fee is also one of the highest at 69 euros.
FKK Mainhattan
FKK Mainhattan is located at Schielestraße 45, 60314. It is a solid option and has one of the cheaper entry fees at 50 euros.
FKK Sharks
The most cost effective way to get to FKK Sharks is to take the train to Darmstadt and then take a taxi from there. It is another cheaper option with a 50 entry fee.
FKK World
FKK World just went through some recent upgrades and it is much more luxurious inside now. They also added a DJ in the new shisha lounge which has made for much more of a party atmosphere inside.
There is a 59 entry fee but if you go early before 1pm it is reduced to 47 euros. It is located at Grüninger Weg, 35415.
FKK 40 Dietzenbach
This would be the cheapest of the nice FKK's in the city. They even have a special deal that makes the sex even cheaper.
The entry fee is 40, and then you need to pay 40 for 30 minutes. However if you want to do 2 sessions (with different girls) it will cost you 70. Then you can do three sessions (with different girls) and this will cost you 90.
So in total you can pay 130 and have sex with 3 different prostitutes. Mongering at FKK 40 would not be bad way to spend a day.
Those would be the most popular FKK's in Frankfurt and you should be able to have a great time visiting any of them.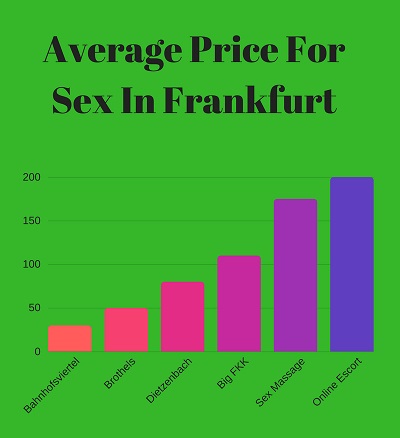 Other Brothels In Town
There are also brothels in Frankfurt where you don't have to pay an entry fee. Instead you pay every time you have sex with a prostitute.
There are quite a few of these all over town, again we will only list some of the most well thought of like:
Treff 188 at Dusseldorfer Strasse 1 in Eschborn
Eros Center Amor 50 at Oskar von Miller Str. 6
AO House at the corner of Tanus and Elbe Street
Japan Miss on AdalberstraBe 7a
At Treff you can pay 80 euros and then have as much sex as you want to with the different prostitutes working. AO House is sometimes referred to as Hookers at TaunusstraBe 32 and is a good spot for cheap sex.
Japan Miss is the best Asian brothel in Frankfurt. Asian prostitutes aren't always easy to find in this city, it is sometimes referred to as Japan China Girls.
Happy Ending Massage
In many cities around the world the best way to find sex is to visit a happy ending massage spa. Well, this isn't most cities in the world and therefore this is one of your worst options here.
Why? Because you are going to be paying 100 euros for a handjob happy ending at most places. Sure, you get a nice body to body or nuru massage, but the ending is almost always a handjob.
You can pay extra for sex or a blowjob most of the time, but then we are talking 150-200 euros. Not sure anyone will consider this good value with all of the other options in town.
With that said you can get a happy ending massage in Frankfurt at spas like:
Glamour Erotic Massage
Velvet Erotic Massage
Nang Nuan
Kaskade
Secret Service
City Relax
Then there are some cheaper Asian massage parlors like Sabaidee Thai Massage and Chiang Mai. If you want a happy ending massage then you can easily find one, but with full service sex so easily available in this city it isn't the best option.
Or watch the best sex massage porn at Happy Tugs.
Strip Clubs In Frankfurt
Could pretty much copy and paste most of the writing from the last section here. What is the point of getting blue balled at a topless strip club when you can go to an FKK?
There will be even more sexy naked Frankfurt girls walking around at an FKK that are down to have sex with you at any time. You are likely to spend just as much at a strip club in Frankfurt and leave with no real memories to show for it.
With that said the two most popular in town seem to be Pure Platinum and Golden Gate.
Online Escorts
You can meet hookers online through escort agencies, but again this isn't all that advisable. You are going to be paying 200 euros for sex most of the time, and have to hope that the hooker that shows up is actually the one from the photos.
However some guys like the ease and convenience of delivery. Maybe you are busy and don't have the time to go out but still want to have a little fun.
There are many different online escort agencies in Frankfurt which you can easily find on Google. Some that seem to have good reputations are:
Diva
Prive
Kim Escort
Bang
Diamond Escorts
Swingers Clubs In Frankfurt
There are more swingers clubs in Berlin but there are a couple worth mentioning here as well. Some may consider an FKK a swingers club of sorts but we don't count those.
For one they are prostitutes not girls looking to have fun for free. Secondly there really isn't any swinging or wife swapping going on.
The two best swingers clubs in Frankfurt are Fantasy and Emmanuelle. You will need to make a reservation at Fantasy before you visit by texting 069 410034.
Then you can get exact directions to the location which is near Hessencenter in the eastern part of the city. Emmanuelle Swingers Club is located at Westerbachstraße 70.
BDSM And Kinky Sex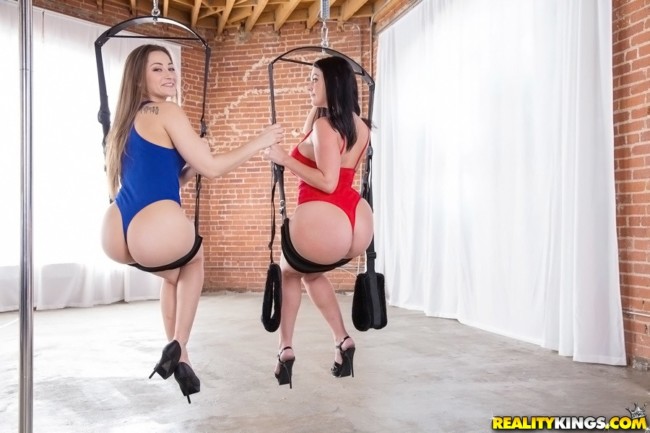 If you want to have BDSM or kinky sex in Frankfurt you do have some options. The Grande Opera hosts bondage sex events every once in awhile and is considered to be the best place to go.
You can also find a kinky fetish sex club at Elbestrasse 43-45. Japan Miss which is the Asian brothel we mentioned before has lots of bondage gear ready to use if you are interested.
You could also pay an FKK or brothel girl extra to do some kinky things with you if you are interested. Or visit one of the many sex toy shops in Frankfurt.
Pick Up Bars & Nightclubs For Non Pro Girls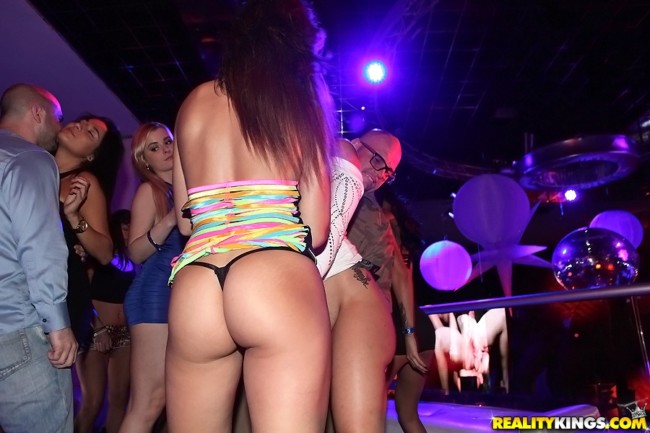 With so much great pay for play and cheap sex available you might be better off taking advantage of it when you are in town. It is legal after all.
But if you would prefer to go out and party and pick up girls at nightclubs and try to hook up with them you could do that as well.
Some of the most popular pick up bars and clubs in town to meet single Frankfurt girls are:
You can also try to meet a good woman in Frankfurt on International Cupid. It is a great worldwide dating site that is pretty popular all throughout Germany.
That would be your best site for trying to meet a good woman for a serious relationship or marriage. If instead you just wanted to find a slut to hook up with and quickly get laid use Adult Friend Finder which has thousands of active female users in Germany.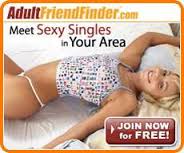 Mongering Map
Here is a good Frankfurt mongering map to help you locate all of the best adult entertainment around town.
Enjoy Finding Sex In Frankfurt
That wraps up our Frankfurt sex guide and this is one of the best cities on the planet for a single guy to visit. There is so much nightlife all around you and so many different options.
You can have cheap sex at the Bahnhofsviertel Red Light District or have a more luxurious experience at the FKK sauna clubs. There are brothels, online escorts, happy ending massage parlors, swingers clubs, and kinky fetish sex clubs available as well.
Pretty much anything you want to make happen can be accomplished here. If you wanted to read about how to get the most out of all the great mongering in Germany check out this eBook guide.
All of the major cities most guys will visit are broke down so you always know the best options avialable to you. Good luck finding girls for sex in Frankfurt.