Review Of Frenchy's Strip Club In San Juan, Puerto Rico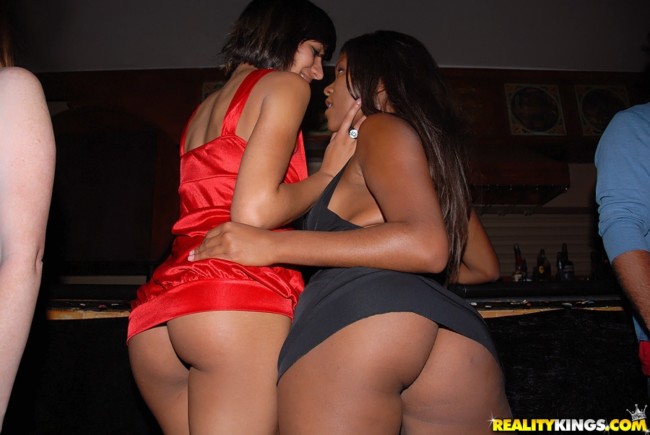 Today we are going to do a review of Frenchy's strip club in San Juan, Puerto Rico. Even though we are calling this a strip club it is actually more like a brothel.
It is kind of funny that it is a topless bar but you can easily have sex with the strippers in the back rooms. They won't take off their panties in the bar, maybe they aren't allowed to, but they will surely drop them behind closed doors.
When you are inside Frenchy's strip club in San Juan there is a very hands on policy. The girls will want you to be feeling all over them if they give you a lap dance and they will be stroking your dick trying to get you really turned on.
That way you will give them the big money in the back room. Like many gentlemens clubs for adult entertainment around the world you do need to be a bit careful for scams here.
Scam might be a bit too harsh of a word, but definitely confirm prices before you buy things. There are various reports on pricing and it seems that tourists are often overcharged by quite a bit.
We will try to do our best to clear the real prices up and talk about the club in general. If you wanted to meet girls that weren't hookers in this city then this post would be more helpful to you.
Where Is Frenchy's In San Juan?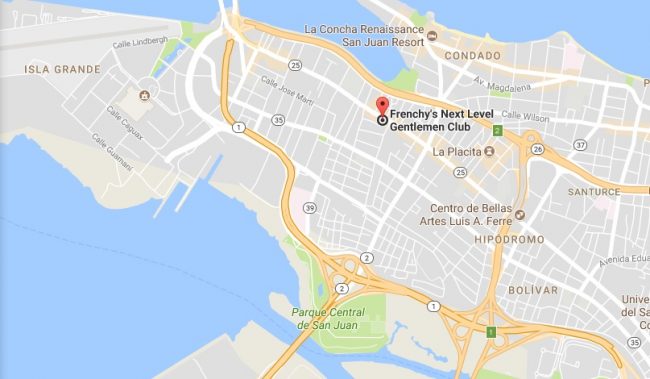 Some people have a hard time finding it so we have included an interactive Google map to make it easier. Frenchy's is located at 1060 Ponce de Leon in Santurce.
There are other adult entertainment establishments nearby, this part of town was prominent in our where to find girls for sex in San Juan post. Since this is such a popular strip club there will probably be some freelance prostitutes in the area trying to find a customer leaving the bar.
The Prices At Frenchy's Strip Club
As mentioned prices at Frenchy's strip club seem to be all over the map depending on who you ask. There are also many reports about people getting kicked out for not continuing to by drinks.
If you are a first time visitor expect for everyone to try to take advantage of you. From the best we can tell the real prices you are supposed to pay are a $20 cover charge and then drinks are $10.
Lap dances should be $20 and if you want to have sex with strippers in the VIP rooms that will usually cost $160. We have heard of people getting charged $15 for drinks or that guys have been told $160 to the girl and $100 to the bar to go into VIP.
If someone tells you that then question them like you know the real prices. The prices are already way more than you have to pay for sex in Latin America usually.
Are They Strippers Or Prostitutes?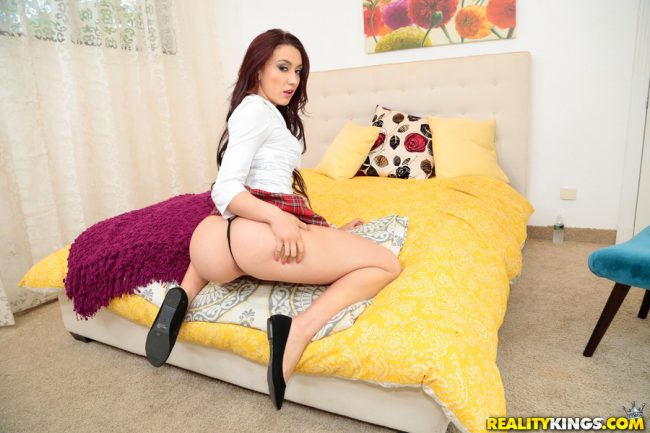 Depending on who you ask some will call Frenchy's a brothel but most refer to it as a strip club. If there aren't many customers around then there might not be too much stripping going on.
Generally one or two girls will be dancing topless on stage where the rest of the girls work the room. It seems that the girls on the stage stay for a very long time, and not all of them will go up to dance.
If you want to get a lap dance from a Frenchy's girl you are free to feel their tits and ass all you want. They will want you to do this because they are always hoping that you want to spend more in VIP.
Them stroking your cock right out in the club is not unheard of so be ready for that. Then you can head to the back room for sex or a blowjob at any time if both you and the stripper want.
You will find girls from all over Latin America here. Plenty of Puerto Rican's but also lots of Dominicans. You might even find some sexy South Americans.
If you see one you like smile, wave, or go up to her. If she is dancing hold a dollar out and you can probably get in a booty squeeze or grab.
This is a very hands on club so have fun. If you aren't really down with the whole paying for sex thing you may want to try and meet non pro girls on Latin American Cupid.
It is the top online dating site in Puerto Rico and you can find some really pretty girls using it. Just start to pipeline a week or ten days before you arrive in town.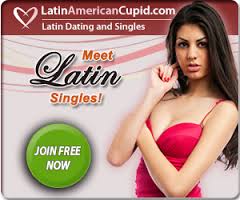 Have Fun At Frenchy's Strip Club
Whether you want to call it a strip club or a brothel a lot of fun can be had here. The prices are very high for Latin America but if you are visiting from the US $160 should be a bargain.
If you wanted to read about more single guy vacation ideas with great nightlife in Latin America check out this eBook guide. It breaks down plenty of better options in the region.
Hopefully this review of Frenchy's strip club in San Juan was helpful to you.