Where To Get An Erotic Sex Massage In Vientiane, Laos
Many guys travel here when backpacking around Southeast Asia and wonder where to get an erotic sex massage in Vientiane. They are so used to seeing all the Thailand sex massage parlors and know what goes down inside them.
Well there are plenty of places to get a happy ending in Vientiane, but not anywhere near as many as in Thailand. There are some well known spots where you know you are going to get one every time, and others that can be hit or miss.
There are loads of massage parlors around the touristy area here, just as there are all over Asia. They know guys will pay for a massage and hope for the best, sometimes you leave happy, sometimes you just leave relaxed.
Lets start with the most well known sex spas and then mention some general tips. If you wanted to read about more places to find girls for sex in Vientiane click that link.
Happy Ending Massage In Vientiane Plaza Sauna
The Vientiane Plaza Hotel has a sauna that is quite well known for giving happy ending massage. This is one of the best places to go because you know what you are going to get every time you visit.
They even have the popular fishbowl set up and can choose the sexy massage girl that you want. The price will be 130k for the cheapest massage, but there are other VIP rooms or packages available.
Then of course you are going to need to tip the massage girl for sex as well. The tip here will be more then at the other places around town but most girls will give a full sex massage here for around 300k.
Other Erotic Massage Spas In Vientiane
That certainly isn't the only erotic sex massage spa in Vientiane, just the most reliable. All around the touristy areas you will see many more. Particularly near the big fountain there are quite a few that provide extra services.
You should try and look for the common telltale signs for a happy ending. Things like red lights by the door, pink lights, girls sitting out front calling guys in, or Chinese lanterns by the door are all telltale signs.
Or you can walk into a massage parlor and get a feel for the place. Ask to see a lineup of the girls and if they will accommodate then there is a good chance extras are offered.
Sometimes there will be an older guy or woman sitting out in front of the massage parlor calling people in. If so there is a good chance a happy ending will be available.
Or you can always just roll the dice and see how your massage ends and if any extra services are offered. The anticipation is half the fun. If it doesn't work out just head home and watch Happy Tugs for the best massage porn available online.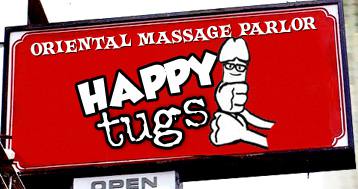 Meeting Girls In Vientiane
An erotic sex massage is nice but sometimes it is nice to get more. If you want to try to meet single girls in Vientiane your best option will be Asian Dating.
It is a great online dating site with girls from all over the continent on it. There are plenty of single girls in this city on the site and you can set up dates easily.
Just log on a week before your trip and start to pipeline. Set up some dates and see how it goes, if it doesn't work out then you can always get a happy ending massage after.

Enjoy Your Sex Massage In Vientiane
While there are better options for cities with good nightlife in Asia there are still ways to have some fun here. When you are backpacking through Asia it is a good city to check out for touristy reasons.
If you wanted to read about the best places in the world to meet easy girls check out this eBook guide. Enjoy getting an erotic sex massage in Vientiane.