Live Lesbian Sex At Windmill Club Pattaya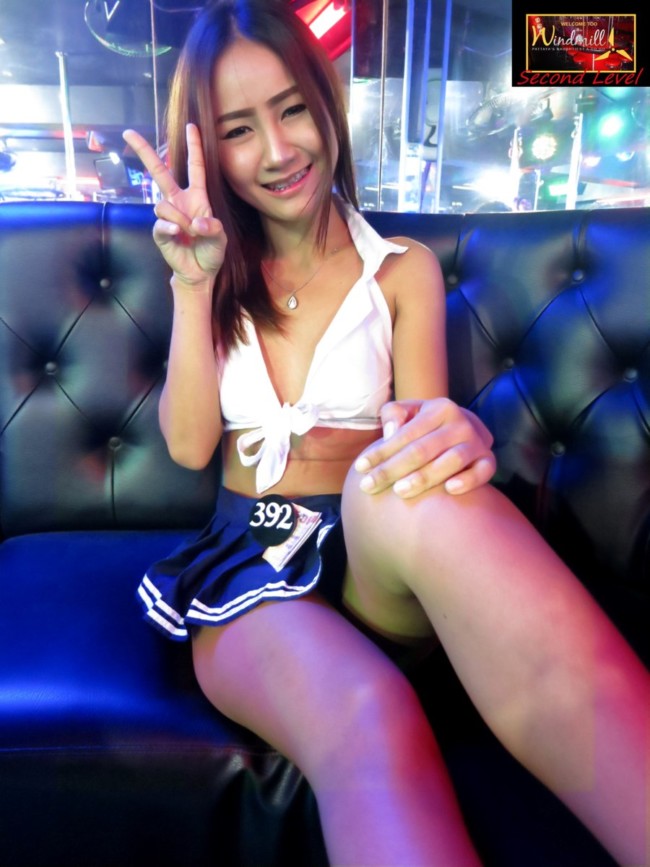 Can you actually see live lesbian sex at The Windmill Club in Pattaya? When guys visit a Thai Go Go bar for the first time they really do not know what to expect.
They have read stories about what happens in them, but most of the things they hear are just that: stories. We will do a Pattaya Go Go bar review of The Windmill Club & Go Go because it is one of the few places where the stories match the reality.
You will often read about how girls get naked in the bars in Southeast Asia, and while that is more true in Thailand than other places it isn't always the case. You will even sometimes here how the Thai girls will perform lesbian sex acts on each other in the clubs, and generally those are overstated.
The Windmill in Pattaya is one place where if you hear a story it just might be true. This is the type of bar where the girls really are that naughty, and they really will do the things you hear about. Go Go's like this are a main reason this city has some of the best nightlife in Thailand.
We will break down the truth of what the Windmill is really like so that you can have some idea of what you are getting into before you go. If you would rather go in without knowing what may happen then stop reading now.
Windmill is located in Soi Diamond but it isn't at all hard to find from Walking Street or 2nd road. If you are on Walking Street just head up Soi Diamond and it will be on your right in a minute or two.
You can find other bars here like Super Baby.
The Positives Of Windmill Go Go In Pattaya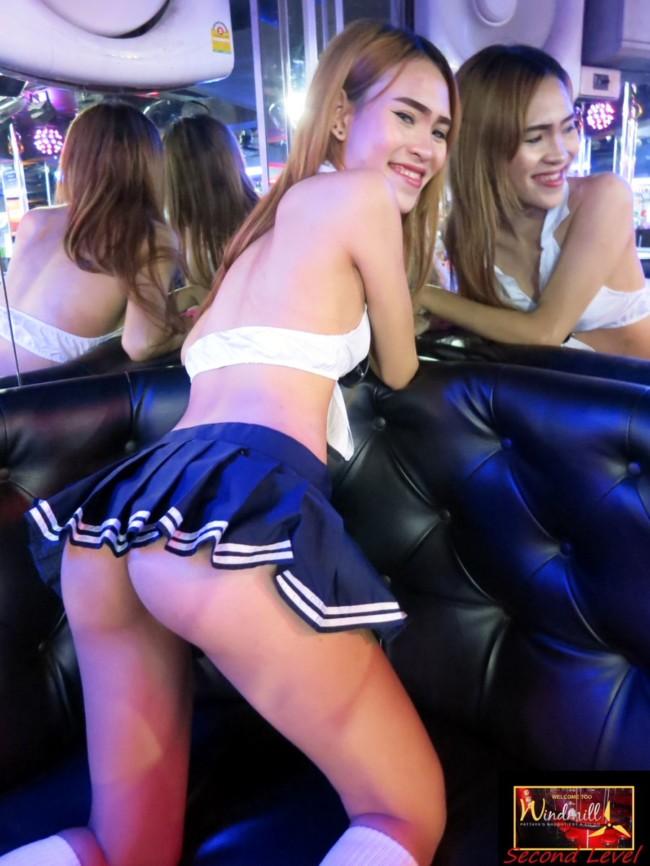 The girls really are as naughty as you have heard. There are plenty of topless Go Go's in Pattaya, but it isn't often that you will see full nudity and the other things you see in Windmill.
There is a big stage in the center, just like in all Go Go's, but there are some smaller stages around as well. Generally the smaller stages are where the live lesbian sex goes down, which is why they call them the 'play mats.'
How hot will these performances get? There will often be two naked Pattaya girls on a play mat, and this is one place where the girls actually do lesbian sex shows.
Sometimes it is just light petting, but girls licking each other has been known to happen as well. Not only that but customers are encouraged to join in (if they are buying ladies drinks.)
Wonder what that sexy Thai Go Go girls ass that is 2 feet away from you feels like? Go ahead and give it a squeeze. Don't be surprised if you see a 60 year old man licking a 20 year old Thai girls pussy on a play mat, in fact that is what the Windmill is all about.
There are many stories about what Southeast Asia was like back in the day. If you read any expat message board you will hear about how the bars were so much better before the internet came along and publicized everything.
Well, the Windmill Go Go in Soi Diamond is one place where at least some of that naughty action still exists. You can also find lesbian shows at their sister club Sugarbaby.
The Negatives Of Windmill Go Go In Soi Diamond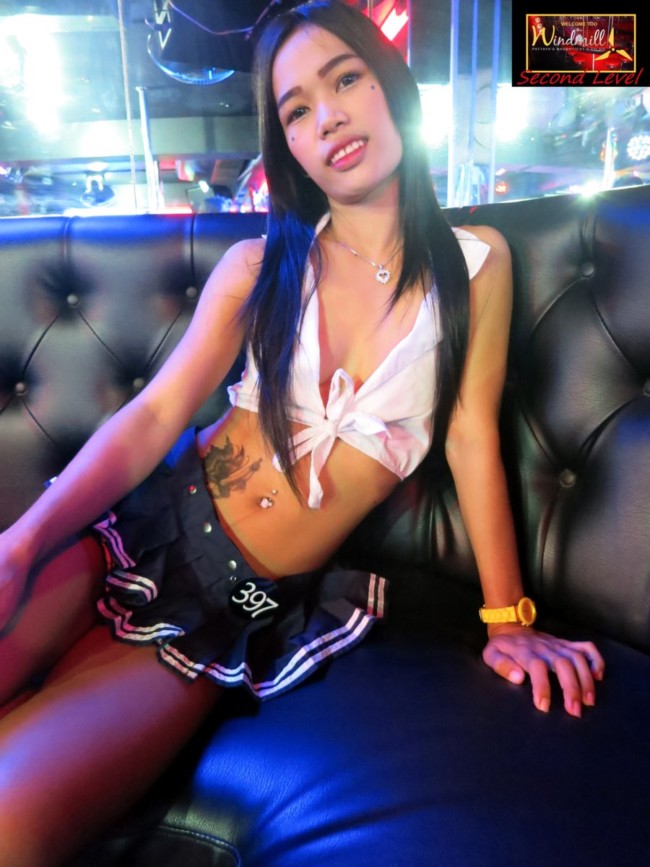 We were going to start out by saying the biggest negative of Windmill Go Go was that it was too popular now and thus too crowded. However they have opened a second level which may make the crowding less of an issue.
That said, as the legend of this bar grows it will continue to stay very crowded. Some guys don't really like super crowded places, particularly in a naughty place like this.
If you buy a girl a few ladies drinks here they might even pull your dick out and start stroking you off, do you really want that going down with a total stranger sitting right next to you on a bench?
Some guys might be like hell ya, others won't. Happy Hour is from 7pm to 10pm and it will be very crowded before midnight. If you are the type of person that doesn't like a big crowd pick your times wisely.
The second negative would be that some guys say the girls aren't all that attractive. You can take a look on their Twitter where they often post pics of the girls who work there and decide for yourself.
Like any bar there will be some cute Thai girls and some that aren't as cute. There is a jacuzzi style tub in the bar, but sadly unless you are in the VIP booth you really aren't going to be able to see what is going on.
The last negative is that the prices for a barfine are higher here than most Go Go's in Thailand. In some ways you get more value here so it is understandable, plus as Windmill Club gets more popular they might as well earn more.
If you want to pay for a short time barfine in Windmill the price is 1,000 baht, long time is 1,500 baht. Then you also have to pay the girl as well which is negotiable but somewhere in the 2k-3k range usually.
If guys are saying the girls aren't as attractive as some other bars then the prices being higher is kind of odd. However you can bet you will get some naughty Thai girls from Windmill.
However when you can meet sexy Thai girls on Thai Cupid for free paying high prices for average looking women may not sound that great.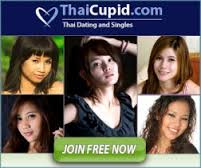 The ladies drinks are pretty expensive at 160 baht a piece, but since you get a 'hands on' experience when you buy one you can't complain about that. They are actually better value here than most places even if they cost more.
The negatives may not be negatives for some guys. If you don't mind or prefer big crowds then that could be a plus for you. The prices are marginally higher but you get good value in the Go Go, and the ladies drink value is well worth it.
Looks are always subjective so can't fret too much over that. Check this out for a longer write up on the rest of the ways to find sex in Pattaya.
Have Fun With Sexy Thai Girls At Windmill Go Go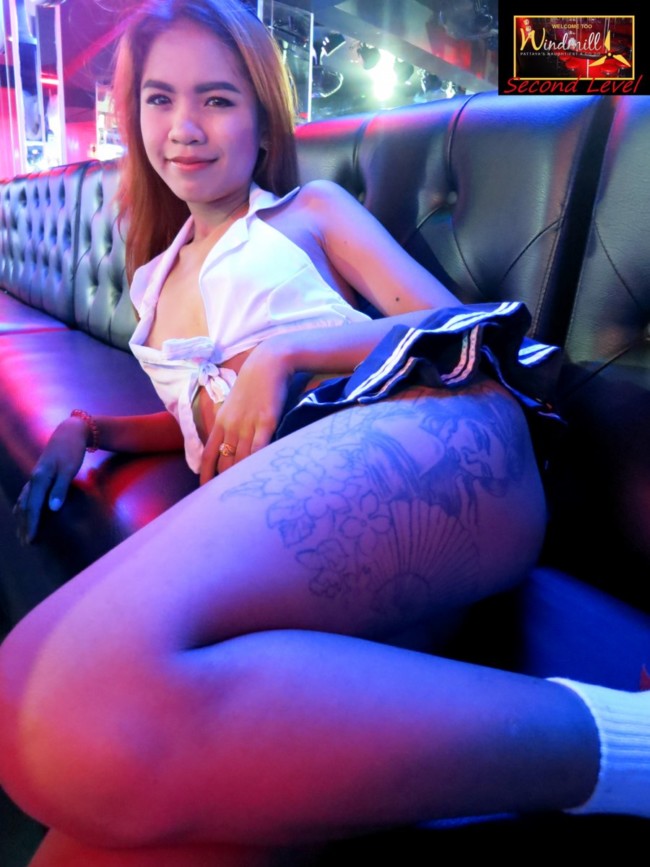 Often times in life you go somewhere after hearing about it and it doesn't live up to the hype at all. The place gets talked up over and over and by the time you get there your expectations are so high that the reality could never reach them.
Windmill Club & Go Go in Pattaya definitely has a very strong reputation these days. If you read about it too much and start fantasizing then it may become another spot that can't live up to the hype.
But it really is what it is, and the things you have heard about do happen here. The only real reason it wouldn't be as good as you are thinking would be if you don't find the Thai girls working there to be as attractive as your mind had made them out to be.
But you can see as much of a lesbian sex show here as you will see just about anywhere in the world these days. Your hands are free to roam around the sexy Thai girls bodies, and you can have a lot of fun here.
This is our first Pattaya Go Go Bar review, we wanted to use the Windmill Club & Go Go because it deserved to be mentioned first. All of the girls pictured here came from their Twitter and actually work there. Here is a good eBook to help you save money on your trip to the Pattaya nightlife.