Sexy Chicas At Santiago's Cafe Con Piernas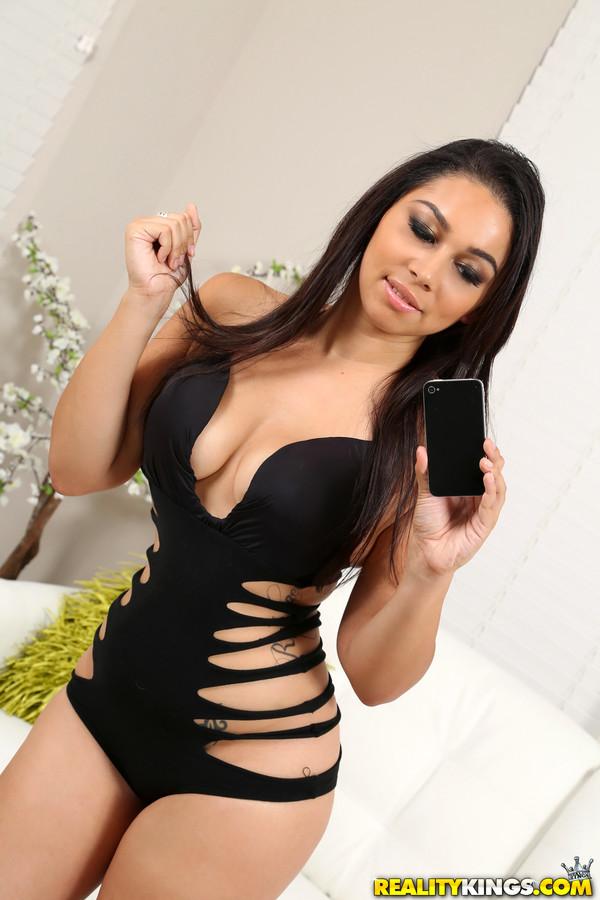 One of the best ways to meet sexy chicas in Santiago is the cafe con piernas. All around the world you are going to find different types of adult entertainment geared towards single guys.
We realize many guys reading this don't speak Spanish and probably don't have any clue what we are talking about right now. Well a loose translation would be 'coffee with legs' and if you let your imagination wander a little you can figure where we are going here.
During this post we will try to break down what these sexy chica clubs in Santiago are like. Cafe con piernas are a little different then anywhere we have heard about around the world.
There are various levels of 'adult entertainment' available in them. Some are very tame, you just drink your coffee and chat with a sexy girl. Others are basically a combination of strip club and brothel where you can have as much fun as you want.
You can find them throughout the city in some very random places. You might be out shopping at an outlet mall and walk past some blacked out windows. If you poke your head inside don't be surprised to find one.
We will start off by explaining these in a bit more detail, then give tips on how to find them, mention some specific cafe con piernas, talk about the prices, and try to cover them in full. If you aren't a fan of paying for sex these can still be fun to visit but our post on single girls in Santiago might be more your style.
What Are Cafe Con Piernas?
These are very unique and hearing 'coffee with legs' doesn't exactly tell the whole story. You can probably get a broad idea of what to expect, but we will try to explain them better now.
There are many of these chica cafe's in Santiago and when you walk inside you will immediately place a drink order at the cashier. After you pay you get a receipt and then check out the available girls.
When you see one you like you walk up to her and give her your receipt. She will then go get your drink and get one of her own.
There are generally no chairs or even bar stools. This is standing room only, you and your sexy chica enjoy your coffee and spend time with each other.
What happens while you are together will depend on which cafe con piernas you are in. You can break these down into 3 different varieties.
In the first variety the girls will be in nice dresses and you pretty much will just have a chat. She might do a little bit of rubbing her body on you and your hands might be able to do a bit of roaming on her, but that isn't a guarantee.
In the second type you the girls will be in bikinis or sexy lingerie. When you buy them a drink they will be grinding all over you giving lap dances and your hands are free to roam on them.
Of course it is up to the girl just how much feeling up you are allowed to do. If it is really crowded they might not allow as much, and in this type sex is probably not going to happen.
However if you are the only customer or one of only a few customers some girls might push the rules a bit. Then there is the third type, and at this third type sex will be available.
After the first drink expect a full on lap dance, and after the second drink they will stick their hands in your pants and give you a handjob. Then the sexy chica at a Santiago cafe con pierna will ask if you want to have sex in the back room.
When we say the back room we don't mean a bedroom in the back. We mean in some closet, office space, or even the bathroom. Standing up or on a desk chair, not on a bed or even a couch.
Did you know that there are more girls in Santiago on Adult Friend Finder than in any other city in South America? They only sign up to a site like that when they are ready to hook up.
Chica Cafes In Santiago

You can find the Santiago cafe con piernas throughout the city but some areas have more than others. As you roam around the streets always be on the lookout for blacked out windows.
If you see some go up to the door and try to poke your head in. You should be able to figure out if you are in the right place or not pretty quickly.
They are often in shopping centers all around town. Some of the best places to find sexy chicas in Santiago cafe con piernas are:
Shopping Centers Near Plaze de Armas
Shopping Center At 1161 Augustinas
Enirque Mac Iver Street
Corner Of Monijitas And San Antonio
One of the most popular chica clubs where you can have sex in a cafe con pierna is Cafe 26 located in a strip mall at 839 Merced near San Antonio Road. There are multiple in this strip mall and you can have sex in most of them. That map above leads you there.
The two most well known places to enjoy your coffee with legs would be Cafe Haiti and Cafe Caribe. However these are kind of considered high class and there will be no sex and minimal touching allowed.
There are a whole lot of the mid level types located on Av Libertor Bernardo 949-969. Here you can find a lot of sexy cafes like:
Zofanio
Olimpo
Starleg
Marylin
Alibaba
Ipanema
Bahia
Cianal
Elitte
In these the girls should be in bikinis and you can get full hands on lap dances. However the option of sex in the back room will probably never be given.
Even if they don't offer you can always ask. If they say no try and get their Whatsapp number and see if they will want to meet you after work.
There are many ways to find prostitutes in this city. Some guys prefer these, others may like a more traditional brothel or sex massage instead.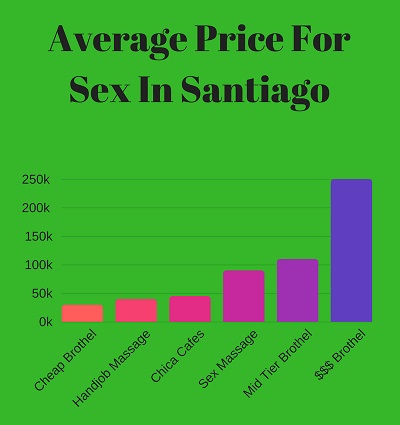 The Price For Sex & Drinks
At the time of writing you get roughly 610 pesos for every $1 USD. Your drinks will cost around 1.5k pesos and a ladies drink will be 2k-3k.
If available then you will need to pay somewhere in the 30k-50k range for sex in a Santiago cafe con pierna, but 30k should be enough for most girls. If you want to do take out then expect it to be 40k-60k but that will be negotiable.
One thing that is often reported is the girls asking for tips afterwards. It is up to you if you want to give them but don't be surprised if after you leave the back room they are asking you for an additional 5k or 10k.
Since this is just a hurried back room bang in a bathroom or office tipping doesn't really seem necessary. It is probably something that they only try on tourists, but who knows locals may pay it also.
Have Fun At Santiago Chica Cafes
These are one of the best parts of the Santiago nightlife. You can visit a cafe con pierna and have sex with a hot girl of your choosing for around 40k-50k total after drinks are included, not bad at all.
If you don't like paying for sex then you should be using Latin American Cupid to try to meet non pro girls. This will allow you to message hundreds of girls in an hour, all of whom are looking for friends, dating, a serious relationship or just some fun.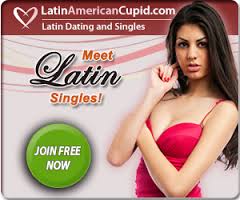 Log on a week or ten days before you come into town and try to get as many contacts as you can before you arrive. Then you should have a full dance card, but if your Latin American Cupid dates decide to take it slow you always have the sexy cafes to fall back on.
If you wanted to read about other great places to visit with good nightlife in Latin America check out this eBook guide. It breaks down many cities that will be great for a single guy.
Have fun if you try to pick up sexy chicas at Santiago's cafe con piernas.