Get A Thai Happy Ending Massage In Taipei, Taiwan
In this post you will find about a couple of spas where you can get a Thai happy ending massage in Taipei, Taiwan. There are some decent erotic therapeutic options in this city, now you can find out about a couple more.
We have written extensively on where to find girls for sex in Taipei. Thai happy ending massage is just another great thing you can add to your to do list.
There are a couple Thai spas in town that are located very close to each other. We will break down what to expect at both of them so if you know if you want to visit or not.
It is always nice to have two spots nearby. That way if you go to one and it has too many customers you can just walk down the street to the other.
Lets go ahead and get started with these two spas now.
Where To Find Thai Spas In Taipei
Thai Happiness and Thai Leisurely Life are both located near the Taian Hospital and also the Landis Hotel. Any taxi driver in town will know where those landmarks area.
They are both on the main road of Minquan East Road and should not be hard to find at all. Just head to the Landis Hotel and they are both within walking distance. If you wanted to read more about erotic massage in Kaohsiung that link has you covered.
Getting A Thai Massage
When you head into both places you will be shown a menu and you can choose what type of massage you want. They offer traditional Thai massage or an oil massage.
If you want to get the happy ending it is probably better to get the oil. After you choose your massage they will wash off your feet and then you head to the massage rooms.
At this point you will be asked if you want to shower. If so you will do this by yourself and then head back to the room.
If you choose the Thai massage you will wear a full body outfit that is sort of a combination of a robe and a straight jacket. This makes getting to the happy ending part more difficult, you will probably have to ask for it instead of having it offered to you.
If you choose the oil massage option you will change into some tiny mens underwear like you have probably seen before in happy ending massage porn. If you wear these the masseuse will offer you what you are after.
Even though these are 'Thai massage' spas the girls are going to mostly be from China, maybe a few Taiwanese girls as well. Don't expect any girls from Thailand to show up.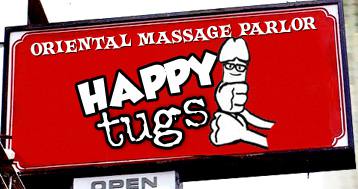 Your Happy Ending Massage
It will start the same way as any other massage would. She will put a towel over your bum and rub oil all over your legs and back.
About halfway through she will tell you to turn over and then put the towel back over your junk. Some may rub on your chest a bit or your upper thigh, lazier massage girls will instantly offer you the happy ending.
If you accept she will help you remove your shorts and go to work on your cock and balls with her hand. Once you finish you can head to the shower and then be on your way.
The Price For A Thai Happy Ending
At Thai Happiness you can either pay 1k Taiwan dollars for a Thai massage or 1500 for an oil, both of which will last an hour. At Thai Leisurely Life it is 1k for an oil and 1500 for 2 hours of oil massage.
The tip for the happy ending handjob is up to you, but 1k is probably the average amount and one they will be happy with. If you wanted to try and get a blowjob or a full sex massage some may be willing to do it if you pay more. Others may decline and only want to do a handjob.
These are a good option to have if you go out to party in Taipei and leave the club empty handed.
Enjoy Your Taipei Happy Ending
Should you head to these spas? Well, they definitely are a nice option to have, but they really are not anything special.
They are not staffed by the most attractive girls, expect average looking Chinese women in their 30's. Plus the most common type of happy ending they provide is a handjob.
If you enjoy the whole massage experience then by all means go and enjoy relaxing with the extra services they provide at the end. But many guys will be left wanting more.
With how easy it is to meet girls online on AsianMatchMate paying for a handjob probably isn't your best option. Just sign up to AsianMatchMate, send a bunch of messages, and have free sex after a couple of dates.
At least now you know where to get a Thai happy ending massage in Taipei to help get you through some dry spells.