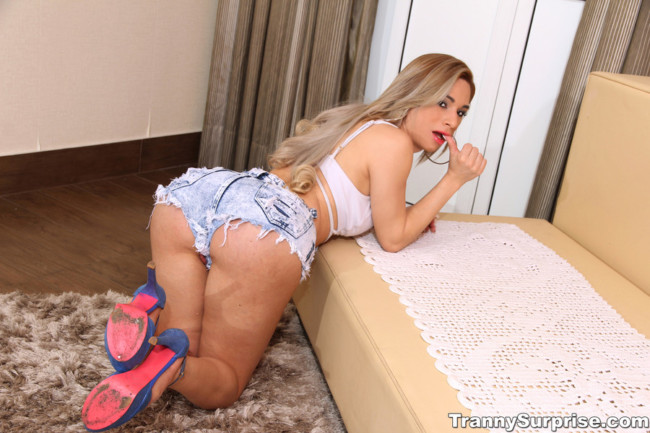 Meeting shemales in Buenos Aires will be relatively easy, all things considered. While Brazilian shemales may be more famous there are plenty to offer here as well.
In particular there are a lot of trans street hookers around. There is a park where most of the prostitute shemales in Buenos Aires hang out which will be really easy to find.
There is a lot of gay and trans nightlife in this city. There are many pick up bars and clubs where the trans community spends their time at.
If you weren't aware travesti is the local word for shemales. They also can go by ladyboys, t-girls, ts-girls, transsexuals, or many other names.
If you are trying to find them online on dating sites or social media be on the lookout for all of those names.
Shemale Prostitutes In Buenos Aires
When looking for shemale prostitutes you will want to go to 'El Bosque de Palermo.' This is a big park that you can find on Libertador and Figueroa Alcorta.
It is often referred to by the locals as 'Zona Roja Travestis' which pretty much means shemale red light district. There will be some out during the day, but at night is when they really are on the prowl.
They may also hang out in the known sexpat spots around town. For more on where to find sex in Buenos Aires click that link.
If you are going to go with any trans prostitutes be sure to wear a condom. Also keep an eye on your drinks, druggings and robberies have been known to happen.
LGBT Pick Up Bars & Nightclubs
There are a lot of gay and trans clubs in the LGBT nightlife where shemales are very welcome. This can be a very good way to meet them, if you are comfortable in that scene.
There will probably be some hookers at these bars also, but they will be in the minority. Some of the best shemale pick up bars in Buenos Aires are:
Meeting Shemales Online
The last way to find them is to meet shemales in Buenos Aires online. There are two great online dating sites for this.
The first you should try to use us a shemale only online dating site called MyLadyboyDate. On this site you can meet ladyboys from all over the world, and many from this city use it also.
There are no girls on this site, it is just for guys and the transsexual community. That makes it much easier to meet the ones you are looking for.
You can also check out Latin American Cupid. It is one of the biggest online dating sites in the world and is very popular in Argentina. It is not just for trans, there are many women on the site.
However you can set it up so that you search only for shemales. You can also look for both girls and shemales, remember to look for travesti in Buenos Aires because they might put that word in their profile instead.
A good strategy would be to sign up to both sites for free and check out how many shemales are available when you search for them. Choose the site that has the most when you are looking and fully register for it.
We can't tell you which is best because people open and close dating sites all the time. Signing up is free, quick, and easy. So take a look and see which one looks better.
Then you can start to send out messages and don't be surprised when you get lots of replies. As far as dating travesti goes you may want to invite them straight to your place and say you are shy to go out in public since it is your first time meeting one.
Others may want to invite them for dinner and a movie or whatever else you think sounds fun. They will be very happy to meet you, and probably eager to hook up and get laid also.
If you pipeline a week before you arrive you can have plenty of dates lined up by the time you arrive in town. Try and get them to Skype just to make sure they look the same as their pics.
Don't be surprised if your Skype chats with ts-girls turn naughty, that can be fun. Since often times shemales are prostitutes you may need to confirm whether they want money before you meet or not.
Do it in a polite way when you first start talking to them. Say that the previous travesti you talked to asked for money and ask if they expect you to pay them as well.
They know that many trans are hookers and are unlikely to get upset as long as you ask in a non accusatory manner. That way there will be no surprises in the morning when they ask you for money on the way out the door.
You will be able to meet and date so many shemales using Latin American Cupid or MyLadyboyDate that you will have a full dance card. Just remember, the more contacts you make the more dates you will be able to go on, and the more fun that can be had.
People can be very flaky, get as many numbers as you can so if one falls through you have backup plans. Hopefully this post on where to meet shemales in Buenos Aires, Argentina was helpful to you.