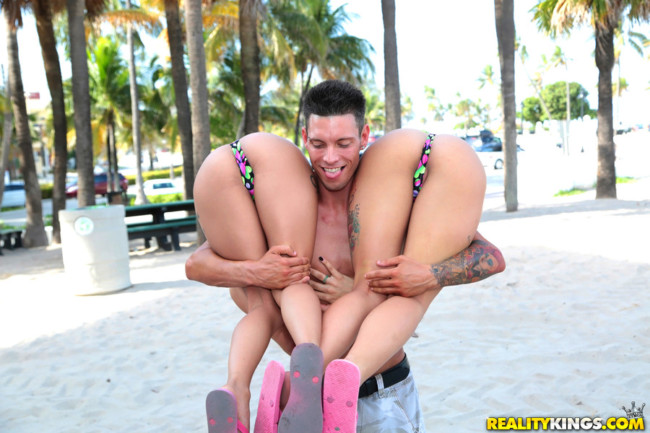 This post on picking up hot girls in Fiji for casual sex or a serious relationship is a bit like a buffet, you can sample whichever options you think look good. We don't know if you prefer noisy nightclubs, calmer bars, day game or online dating so we will try to cover them all.
We all like to do things our own way, but the real key is that no matter what you like that you keep doing it until it works. Volume is always the way to go, if you give up too quick then you are never going to get nothing.
When hot girls in Fiji want casual sex with random guys they usually go party in the same spots. The Nadi nightlife district would certainly not be a bad place for you to try and find a slutty tourist, while in Suva you will have a better chance with the island women.
Head to those spots on weekends when the drinks are flowing and the music is blaring and hit on as many women as you can handle. Just keep doing it until you find one who is looking for the same thing as you are.
Partying isn't your only option, work on your conversational skills and then start having chats with girls no matter where you see them. And then there is the best dating site to meet sexy girls in Fiji, by now you should have realized that online dating isn't a fad, it is here to stay and will only continue to get more users.
Just keep putting in the effort and something on this page should be able to help you. If not then maybe it is time to look in the mirror and ask yourself what you can do differently that might make it easier in the future.
Meeting Sexy Island Girls
The easiest way to meet sexy girls in Fiji will be to pick up tourists in the nightlife around Nadi. When girls are having fun on a trip they are always much more likely to want casual sex, either because that is the plan or they lose their inhibitions and make a mistake.
They will be out to party, get drunk, and have a good time. If you go out with a plan then you can probably get laid.
There are lots of different places to party around the island whether you are in the backpacker district of Nadi or in the capitol of Suva. A few lounges, clubs and bars to pick up Fiji girls for quick sex are:
Bad Dog Cafe
Ed's Bar
DownUnder
O'Reilly's
Traps
Club Feenixf20
You will probably find the sexiest girls in Suva partying around McArthur Street.To hook up with hot girls in Nadi go to Queens Road.
But really you should just roam around the touristy nightlife area and pick spots that look the best to you or have good ratios. During the day you can have success meeting girls at the beaches and Pacific Harbour is a good beach about an hour from Suva.
If you want to try to meet sexy girls online in Fiji you will have some options. It is not only a great way for foreign men to meet the local island girls here but also in whatever city on the continent you travel to next.
Look guys, online dating really isn't too difficult of a concept. Message as many girls as you can and don't be an asshole. These girls want to meet a guy just as badly as you want to meet them, but most need to build some trust first.
The good news is that most guys are jerks or pervs. They can be nice for a while, but eventually they will start to ask for nude pictures or ask personal sexual questions that the girls have no interest in sharing with someone they haven't met. Here is a good idea: don't do that.
Why blow the chance to actually have sex just to possibly see a bit of skin? If you are that desperate to see some boobs surely you can find some on the internet.
Believe me, if you have the patience it takes you will get a far greater reward than a nudie pic. There are plenty of apps and sites out there to meet sexy girls online here. Because this post is in English we bet there are some tourists reading it.
If you are still in your hometown dreaming about taking a trip try using Adult Friend Finder to find girls for sex near you right now. It is a great site for fast hook ups, and Adult Friend Finder is doing great in American, Canadian, European, and Australian cities these days.
Good Luck Finding Sex In Fiji
There is a pretty easy game plan when it comes to finding sex in Fiji. Try to pick up tourist girls on holiday mode or look for a serious relationship with a local island girl.
You will be able to score in one way or another. Good luck finding hot girls for sex in Fiji.