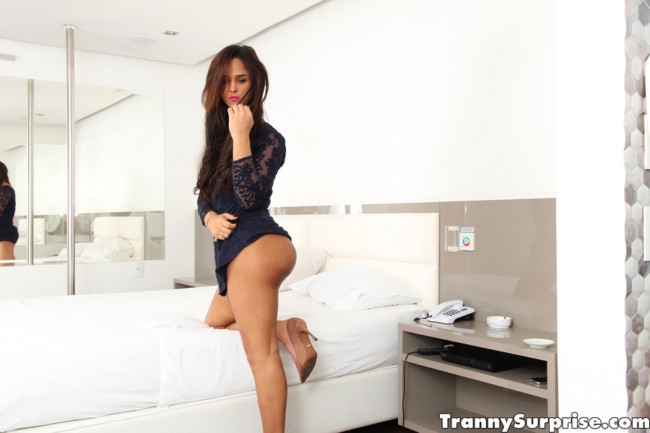 Hey guys, we have some info on where to find ladyboys in Singapore but the unfortunate truth here is this is not going to be easy no matter where you look. Most of the time if you see a ts girl out in public they are going to be the few prostitutes that prowl the same places every night.
While some guys may be up for that we aren't really going to bother with telling you where to meet ts prostitutes or massage for a few reasons. For one, that is a dangerous game and we don't want to lead any of our readers into any trouble.
We aren't only talking about legal trouble, picking up ladyboy prostitutes in Singapore could also get you robbed, infected, drugged or who knows what else. Why put yourself in that type of risky situation for a quick one off that won't have any chance of satisfying you?
We do have a few bars where ladyboys may be, and we will share them, but you really need to keep your hopes in check here. They aren't Singapore ladyboy pick up bars where you know every time you visit a bunch of trans will be around waiting to be hit on.
Instead they are just gay bars where trans might go, but most nights there won't be many, if any, to choose from.
Bars To Find Ladyboys
Again, do not get your hopes up too much. These are just gay bars where if you get lucky you might find them. But when ladyboys in Singapore go party they visit:
Expect to spend a lot of time trolling those bars hoping to find a few sexy ladyboys to hit on. You better hope they are single and ready to mingle.
If you are new to dating ladyboys all you need to do is relax, and treat them the same as you would anyone else. That is all they want, and it is what they deserve.
Especially when they try online dating they take a lot of crap from jerks behind a keyboard. We all know that people are often different when they are online, well ladyboys definitely take a lot of that hatred that comes out.
The good news is that all of those assholes make your job a lot easier. Just be a nice person, treat the sexy ts with respect, and you should have plenty of success with dating or hooking up with Singapore ladyboys.
On the other hand if you are another one of the jerks who treats them poorly then expect to get back as good as you gave it.
Meeting Ladyboys In Singapore Online
A lot of guys are very curious to experiment with a ladyboy, but not all guys end up going through with it. Who wants to walk up to a ladyboy at a crowded bar or on a busy street that first time?
There is definitely a shyness here that can be hard to get past. Does this sound like you? Well if so then you should be trying to meet ladyboys online in Singapore instead of doing it at crowded bars.
The great thing about dating sites like MyLadyboyDate is that you can meet these same transsexuals without doing it in public. They are on the sites and some will gladly come straight to your room for no awkward first meet.
Even better you can meet ladyboys that want to have quick sex or for a more serious relationship if that is what you are after. How often do you think a ladyboy who loves sex is going to get plowed? Some ladyboys can be very dirty and HIV rates are high. Be sure that you wear a condom with one and use safety with transsexuals, but why not just go for a more genuine experience? There are many Singapore ladyboy massage or escort options, but are they really the right way to go?
Many on the dating sites will be open for casual sex and not be after money. It is always a lot more fun to have sex with someone that actually wants to be with you right?
So try out the site, treat them with respect, and message the hot ones. Be a gentleman and not a pervert and ask them to hang out. They will likely say yes, and many ts will be happy to have the first meet at your room.
Sadly most people are assholes when they are behind a keyboard. Trans get harassed often, if you show them you are a genuinely nice guy they will want to try to make you happy as your reward.
Online dating is definitely the best way for finding ladyboys in Singapore, you can find some who want casual sex and others who want serious relationships.