Best Pool Parties in Las Vegas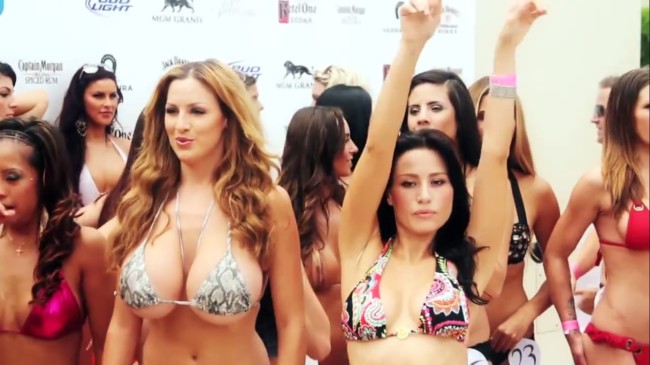 While most think of partying as a nightlife activity the best pool parties in Las Vegas insure that you can find a great party during the day also. With so many smokin hot girls flowing into Vegas all the time the eye candy at these can be some of the best in the world.
The atmosphere inside is lively and if you go on the peak days then they will be extremely crowded. Everywhere you look there will be boobs poppin out of skimpy bikinis and thongs walking past that give you whiplash.
If you just pay the standard cover charge ($20-$60) then you will have no where to chill, but if you want to pay for a cabana then that is going to cost hundreds. If you are with a crew and will spend the whole day there then chipping in for a cabana is probably worth it.
Girls will think you are 'VIP' if you have one and this may make hooking up easier. If you are rolling solo or just want to get in, try and pick something up, and head back to your hotel room them skip the cabana.
The drinks will be quite expensive also, $7+ for a beer and everything else will be more. Maybe do some pregame drinking in your room if you want to save some cash.
They will have free water all around and make sure you drink plenty or else all that alcohol and hot Vegas sun will dehydrate you quick. Many think that the best Las Vegas pool parties are the best parties in town now a days, even better then the nightclubs.
Since so many girls where the skimpiest bikini possible to show off their sexy body on their vacation it is hard to disagree. All of these places should be pretty good on the weekends, and over crowded holiday weekends they will be even better.
However they are not year round, they usually run from around April until late September.
Rehab At Hard Rock On Sundays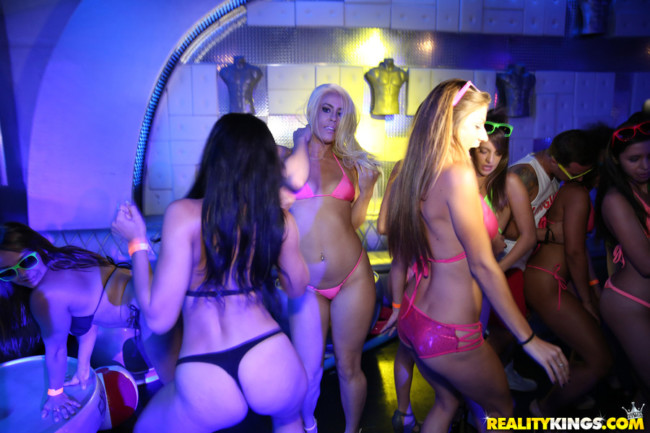 Rehab at the Hard Rock is definitely the most famous pool party in Las Vegas thanks to the show on E!. It was already extremely popular before the show first aired but once it hit TV every girl dreamed of being on TV.
The line for this will be extremely long, and as a single guy don't be surprised if you get turned down at the door on a particularly busy day. And then 2 seconds later some 9 will get ushered in, that is just life in Vegas.
This one may have become a bit played out by now. The prices keep going up and up because the demand is so high and it is so crowded you can barely even move around.
However it still may be the greatest collection of ass in one place a guy could ever see. Even if you don't want to wait in the long lines and pay the cover charge head up there at noon on a Sunday (what else do you have to do at noon a Sunday?) and take in the scene in the casino.
Also, if you are a Vegas local you can get into the pool for free on Wednesdays, there will be some eye candy but nothing compared to a Sunday.
If you wanna try and pull a girl from here you will have a much better chance if you are staying at the hotel. That way she can disappear from her friends for an hour or two and then say she was at a different pool and they will never know.
Ditch Fridays At The Palms Pool
The Palms isn't second on our list because it is the 2nd best pool party, it is second because it is the best pool party on Friday and all the rest will be more geared towards Saturday and Sunday.
It is much smaller then the Hard Rock pool but it can still get pretty crowded particularly on holiday weekends. If you are arriving in town early in the week and want a fun pool party that you won't have to wait hours to get into and only costs $20 then this is a good option.
The Palms is located just off the strip and is a pretty convenient place to stay. There are some cool clubs that are really great on the weekends, one on the top floor has a great view of the city.
Liquid At Aria
Liquid is even smaller then what you will find at the Palms but it is still a great party. Of course the Aria also has a massive pool for all of the hotel guests, but the party area is here at Liquid.
There are a few cabanas around but also quite a few lounge chairs that are free so you can actually have a chance of finding a place to settle in. At some of the others if you don't buy a cabana you are not going to have a good place to chill other then in the water.
The Cosmopolitan next door is one of the 'trendiest' places in town for sexy girls to stay, and many of them head over to Liquid on Saturdays. Oh ya and there are some smoking hot go-go dancers in thongs that will mesmerize you.
Daylight At Mandalay Bay
Mandalay Bay probably has the most underrated pool and pool party in Las Vegas. No one ever really talks about this casino as a good party spot but the pool is one of the best in town.
Actually there are multiple pools but the best party is at Daylight. With the free pool being so good some people may not see the point of paying to get into the pool party, but then they will see a 20 year old stunner walking that way and start to follow.
Wet Republic at MGM
Another great pool party is at the MGM called Wet Republic. This one seems to be one of the better ones on Saturdays and many of the hottest local girls in Vegas go here.
This is where they hold the 'Vegas Hot 100' where many girls come to try and be crowned the hottest girl in Vegas for big cash prizes. Many of the hottest strippers and go go dancers in town come here to show off and try to win that cash.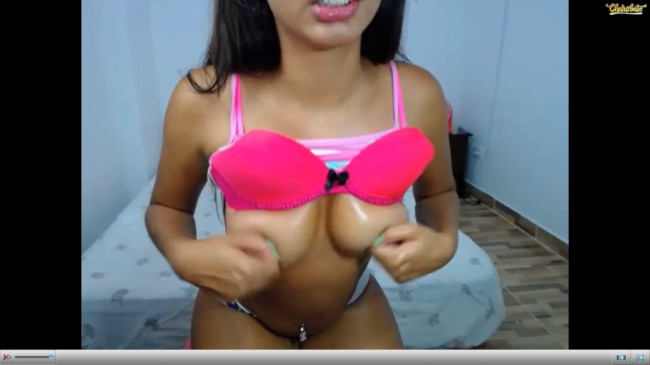 Encore Beach Club & Sunday Night XS
If any pool party in Las Vegas is giving Rehab a run for its money it is Encores Beach Club and XS. They wisely saw that there were no pool parties going on late into the night on Sundays and scooped up that market.
They pay some of the top DJ's in the world to come in and have reportedly paid celebs hundreds of thousands of dollars to attend. This marketing worked and now they make a killing every weekend on cabanas and bottle service.
If you want to spend all day and night partying at the pool then this is your best option.
Topless Pools In Las Vegas
Most of the nicer hotels in Las Vegas will have a topless pool area. You can find them at Caesers Palace, the Wynn, The Rio, and many more.
However if that is what you are looking for then you should probably head to Sapphire strip club where they recently opened up a pool and now many of there dancers spend the day there lounging by the pool topless.
Sapphire is one of the top strip clubs in the city and you will see some great tits and sexy asses in thongs here. The other topless pools will be hit or miss, and for the most part they don't have much of a party atmosphere., more just girls laying out tanning.
That isn't the case at Sapphire, you will have a great time here as the girls are still trying to work for tips.
Pulling From A Las Vegas Pool Party Needs Good Logistics
If you want to maximize your chances of pulling from a Las Vegas pool party having a room booked site will be the best thing you can do. Girls are going to be heading to these places with their friends and won't want to disappear for long.
But if you have a room booked at the hotel the two of you can run up to your room for a quick romp and be back down to the pool in an hour. That way when her friends ask where she has been she can make up plenty of excuses.
But if you have to dry off, put on clothes, hop in a taxi to a hotel on the other side of the strip, and then taxi back it won't work. Then her only option is to tell her friends she is leaving with you, and some shy girls may not be up for that.
So if your goal is to pull a girl from a pool party, or better yet pull multiple girls from all of the best Las Vegas pool parties all weekend then plan your vacation accordingly and book your room wisely. You can also contact women on Adult Friend Finder who are always waiting to get laid.