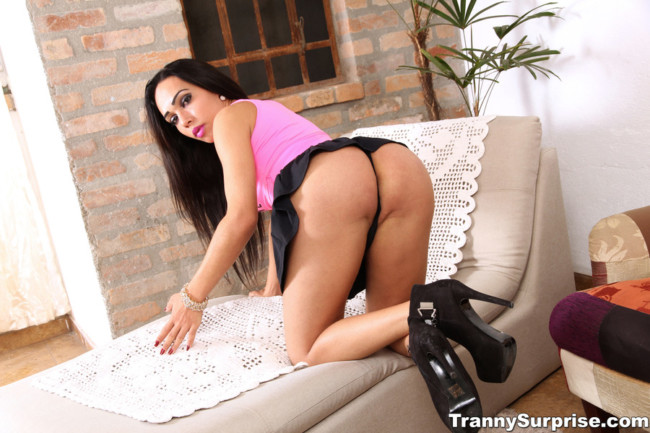 Hello and welcome to our tips for dating and hooking up with Philippines ladyboys. This is not a post on where to go to find them, we have already covered that in other places on the site which we will link to shortly.
Instead this is a post for how to hook up with or date Filipina transsexuals. How to interact with them, spend time with them, and have fun with them.
If you aren't aware ladyboys, shemales, transsexuals and t-girls are all the same. If you are after any of them then you are going to be in the right place.
Thailand may get all of the attention, but there are many ladyboys in the Philippines as well. There are also less foreigners traveling here so you have the numbers more to your advantage.
We will start off giving tips on how to talk to them and the types of things you can say or message to them. It is pretty easy and straight forward, but some guys may have never been in the same room as a hot Filipina ts before.
After that we will give some tips on the types of places you can often find them, and also mention the best trans dating site in the world to meet them so you can start chatting with them now if you want.
Filipina Ladyboy Dating Culture
We are going to assume that you have never met, messaged, or dated a Filipina ladyboy before, let alone hooked up with one. Well, if that is the case then lets start with the absolute basics.
Be nice, be friendly, and keep the mood light. That is the key when dealing with girls in the Philippines, and it is no different with ts.
In fact that is exactly how you should treat them, as if they were girls. That is what they want to be after all right? Treating people how they want to be treated is always a good starting point.
In Asia there is a huge 'saving face' culture which basically means you always keep things positive. You laugh with people, you don't laugh at people.
When guys hang out with their buddies they often like to 'break balls' and rag on each other. The Asian dating culture doesn't work like that so don't even try.
Sure, a silly joke that is clearly a joke is fine. But don't say things that could cause a shemale to wonder if you were serious about it, and definitely smile or even laugh at your own joke after you said it.
Don't talk about 'real' shit, pretend the world is lollipops and marshmallows and keep the mood light at all times when trying to hook up. When you message ladyboys in the Philippines use lots of smiley faces and lol's.
When you meet Filipina ts smile, be friendly, and treat them with respect. This may all sound extremely easy, and that is because it is.
Hooking Up With Philippines Ladyboys
By hooking up we mean meeting with the intention to have sex with Philippines ladyboys. Well, there are multiple ways to go about this.
The first way is to invite the trans out like you would a Filipina girl. Ask them to join you for dinner, a movie, dancing or whatever you have in mind.
They will love this, in fact they will probably love nothing more than to parade around town with a guy on their arm. Of course most guys aren't going to be up for it.
You can also try to invite them over to your place. Just mention that you have never been on a date with a Philippines ts before and are quite nervous, say that you will be shy going out.
If you say this in a passive way they will understand and will probably come over. Since they are as horny as you are so getting laid will be no problem at all.
Philippine Ladyboy Dating Sites
The best way to meet and hook up with Philippines ladyboys is on dating sites. 9 times out of 10 if you see a ts in public they are at a known sexpat nightlife area and are prostitutes.
But there are many other trans in this country that don't want money. They are going to be hard to find in public, but they are very active on Filipino dating sites like PinaLove.
Where as most girls will wait for you to send the first message they will be more aggressive. You can set up a profile and put yourself in one of the bigger cities in the country and they will likely message you.
Or you can just look through the available profiles and spot them easily. There will be many girls on PinaLove, but plenty of trans around as well.
You can also use the best transgender dating site in the world called MyLadyboyDate. It is a great dating site with no girls at all, just hot ts girls and guys that want to date and hook up with them.
You can find trans from anywhere in the world, and of course there are many ts from the Philippines on the site. If you are curious about them you definitely should sign up to MyLadyboyDate for free and see what it has to offer.
This will allow you to meet ones that aren't prostitutes. They may want a husband, a boyfriend, or just a quick fling. You won't get laid until you try.
Hopefully these tips on hooking up with or dating Philippines ladyboys will help you find what you are after.