Orgies & Group Sex At Las Vegas Swingers Clubs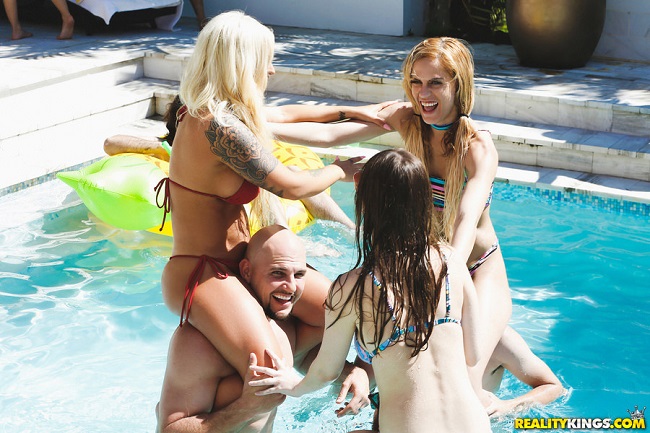 Being that this is Sin City you know that there will be options when it comes to finding orgies and group sex at Las Vegas swingers clubs. People from around the world come here and love to follow that motto of what happens here stays here.
Not only that but there are some other places and ways to find group sex at private adult parties around town. The known orgies at Las Vegas swingers clubs that market themselves online can be a great way to get into the game, but they are certainly not the entire scene.
We will start off by listing the best swingers clubs near you that you will want to attend to enjoy some wife swapping. We will also be sharing some advice on how you might be able to get into those private adult parties around the city, or even how you could throw your own events.
If you want to know about nightclubs to hook up with girls, the best strip clubs in town, sex shops or even bars with transgenders we have covered all those topics on our site at one time or another.
Best Swingers Clubs In Las Vegas
The best swingers clubs in Las Vegas to enjoy group sex are:
Red Rooster is open every night of the week except for Sundays, while Whispers is open on Friday and Saturday nights year round as well during the day on weekends when the pool is open. Risque Vegas Estate is closed on Sundays, Playhouse is open Friday and Saturday nights plus some Thursdays.
Given how important privacy is to most adult sex clubs we are not going to go into any more detail, though you can learn more on their websites. At this point you know about the best swingers clubs in Las Vegas so we want to get into how you can prep for a visit to one. We linked you to them and we suggest that you see what they offer before you head over.
On their websites they will often have a schedule of upcoming adult parties so you can find the right time to visit. Expect there to be a kinky theme most nights and you will want to know the right way to dress for the event.
They also will let you know the exact prices and fill you in on what to expect. Some of the Las Vegas swingers clubs may ask you to pay a small yearly membership fee depending on how private they are, and in a transient town like this not all clubs will require a membership.
Then you will need to pay a cover charge as well, and cover charges can vary depending on whether it is a weekday, weekend night, or a special event. Swingers clubs near you are similar to most around the world in that they prefer to have more swapping couples then solo visitors.
If you are a single guy that is thinking of going alone definitely check to make sure the swingers club will allow you in. Some orgies will have certain nights where anyone can go, and other nights that are for couples only. If in doubt contact them before you go so you know for sure whether you will be able to enter or not.
Single guys showing up alone will have a better chance of getting in if they dress well and don't come across as someone who will be the pervy guy creeping around the shadows. You can also read about Phoenix swingers clubs at that link.
Private Group Sex Parties
The above listed group sex clubs in Las Vegas can be a heck of a good time but they are just a small piece of the scene when it comes to swingers parties near you. There are definitely a lot more orgies and group sex events going on all around town.
The more that you network and meet other couples the more options you will have. Any time you are at a swingers club think of it as an audition to get invited to more parties in the future.
Be the type of guy or couple that other couples will want to swing with. Don't force your way into places that you don't belong or those private party invites are never going to come.
Make sure they understand you know how the group sex game is played and that you can be a valuable member of the community. More orgies in Las Vegas will invite you to join them if you can bring some value.
Another good way to meet a whole lot of kinky people in this city to set up private orgies and group sex parties would be on Adult Friend Finder. In many cities around the world that site doesn't work well, but you might be shocked at how popular it has become in the US and this city in particular has many women using it.
It is a great place to find all sorts of kinky people which could mean wife swapping couples near your or many wild and adventurous single women. This can help you throw your own private adult party, or find a girl to bring with you to one of the known swingers clubs near you so that you can be sure you will get in.
Or you can just meet some girls for some casual sex on Adult Friend Finder as well. Now you know the best ways and places to find orgies and group sex at Las Vegas swingers clubs, enjoy your time.