Orgies & Group Sex At Brisbane Swingers Clubs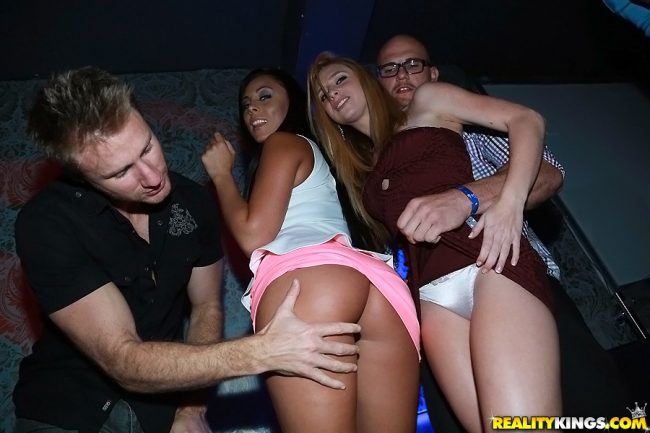 Finding orgies and group sex at Brisbane swingers clubs is possible, but they are pretty much only open on weekends. There are also some adult parties and events around town, but they are not held all that often.
In truth when looking for orgies and swingers clubs in Brisbane the scene here is the same as most cities around the globe. There are some well known group sex clubs, but the best action is going on at private parties that you won't be finding out about on the internet.
Lets list some of the be group sex parties in town before discussing how you can find out about some of those private parties. If you also wanted to read about how to find a girl to bring with you check out our guide to picking up girls in Brisbane for casual sex. Or if you need to spice things up in the bedroom we covered the best adult stores here.
Best Swingers Clubs In Brisbane
There are three main well known swingers clubs in Brisbane you will want to visit. Remember that these orgies are only going down on weekends, but if you want to have group sex head to:
We have already written about the Brisbane strip clubs before, but don't expect to have any group sex in them. There are also some events that are held from time to time which you can check out. For these swinging events and parties visit these websites and get more info:
You can also find more swingers clubs along the Gold Coast which we covered at that link. It would not be a bad idea to contact these sex clubs first, particularly if you are a single guy hoping to get in. Once inside you are now in prime position to make contacts and meet new people in the community.
More Thoughts On Orgies
So how can you find out about those private sex parties that go on behind closed doors that we keep mentioning? By ingratiating yourself into the scene you will have many more doors opened up to you, but that won't be possible at first.
It might take time, or you might just get lucky and make the right contacts the first time you try swinging. If you are a single guy reading this then things are going to be harder on you, most private parties are going to be far more interested in wife swapping couples, though single women will always be welcome.
But a guy running solo isn't really what they are looking for in most cases, and they can find single guys to hop in an orgy at any time. However if you know how to act and are the type of guy that can bring some value to the party then you might be able to work your way in.
By that we mean you need to dress appropriately and know how to be respectful. If you just show up and start groping every woman like they are whores then you certainly won't be welcome back in the future.
But if you are well dressed and treat people with respect then just maybe you will have a chance. The more people you know the more likely you are to find your way into the private adult parties and that should be your goal. If you wanted to try to meet some like minded and sexually adventurous people hop on Adult Friend Finder.
In many cities around the globe that hook up site is just a sausage fest, but that isn't the case here. There are over 1,250 active female users as of earlier this year on Adult Friend Finder and this will be a great way for you to set up some private orgies and group sex parties in Brisbane instead of visiting the swingers clubs.