Expats Living In Saint Petersburg, Russia
If you have ever had any interest in becoming an expat living in Saint Petersburg, Russia then now is the time to make the move. The ruble has crashed over recent years and foreign men can find a very low cost of living here.
You almost get twice as much bang for your buck currently as you did 2 years ago, in 2014 you could only get 36 rubles for every dollar, as of writing this it is 62! That is some great value.
Learning Russian will definitely be to your advantage if you want to live here long term. On a short trip you can probably get by and be alright without it, but long term you will want to learn it.
That said you should still try and show off your English skills if you have them, ladies here are still drawn to guys from other countries. There is a lot of great nightlife in this city and many ways to pick up girls for free sex in Saint Petersburg as well.
We cover girl stuff all over this blog, this post is more about other things you need to know before moving. Most expats try and stay in the area near Nevsky Prospect and/or Dumskaya.
These are the main nightlife areas in the city and if you have interest in meeting sexy ladies of the night that is where you should be. You always want to be staying as close to where you meet the ladies as possible to make closing possible.
You can book rooms online in those areas and give yourself the best shot of scoring. Now lets get to the positives of living here.
Positives of Being An Expat In Saint Petersburg
Well, we said this post wasn't about the nightlife and the ladies but that is one of the best parts. There are so many sexy single ladies in this city and many of them are available in one way or another.
There are lots of girls out on Nevsky Prospect and Dumskaya every night, some of them 'working' others just having fun. Plus you can meet single ladies in Saint Petersburg online super easily.
Online dating is great, there are so many ladies interested in expats online that you can have dates all of the time if you put in a little effort. If you learn the language they will appreciate it, but many will want to practice there English as well.
With the crashing ruble the cost of living in Saint Petersburg is also really good. You can get an apartment in the center of the city for roughly $500 a month and food is quite cheap as well.
This is also the cultural center of Russia so there are lots of fun things to see and do here. Even if you aren't into touristy stuff there will be plenty of things you will find interesting.
The people are also said to be a bit friendlier here than Moscow, and the cost of living is much better so you won't have to earn as much money working online.
Why Foreign Men May Not Want To Move Here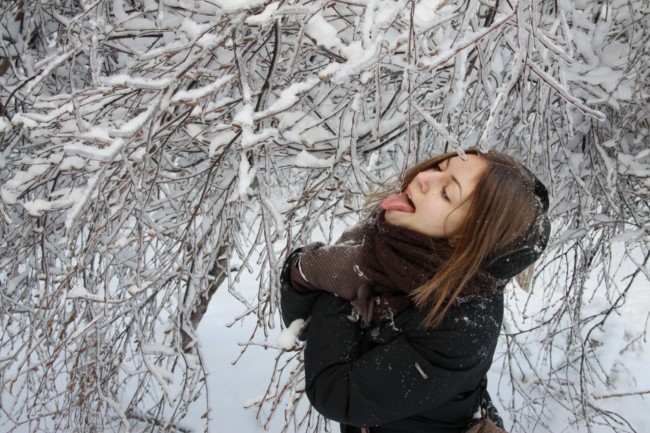 The biggest negative would have to be the weather right? Russian winters are no joke and if you want to live there year round you are going to have to put up with them.
There is just no way around it unless you only want to live there part time. Another big negative is that even though the ruble has crashed there are still a lot of wealthy guys in this city.
Guys that speak the local language and understand the ladies better than you ever will. Even if many of these ladies have an interest in foreigners most ladies would always choose their own kind if all else is equal.
So scoring the hottest ladies in the city won't be easy at all. The 'ballers' are throwing a lot of money at them and have other advantages you can't match.
There are plenty of 7's and 8's to go around though. Really, the main negative is just the weather. Saint Petersburg is a great place, but who wants to live through Russian winters?
Should You Become An Expat Living In Saint Petersburg?
How do you deal with long, cold winters? If that is your favorite time of year then you certainly should. One of the nice things about being a digital nomad is that you have the freedom to come and go as you please. By the way, if you are in your hometown dreaming of making the move try finding easy hookups online on Adult Friend Finder right now.
Foreign men should take a trip here during the summer months and see how you like it. If you think it is amazing then join the other expats living in Saint Petersburg. If you don't then find somewhere you like more.